Who Has the Best Frameless Shower Doors in Oakland?
The best frameless shower doors in Oakland, California can be found from Schicker Luxury Shower Doors in nearby Concord! We have sold and installed Oakland frameless shower doors since 1980.
Schicker has served the entire East Bay area for over 30 years, providing excellence not only in our amazing product line of frameless shower doors and all glass enclosures, but in our outstanding service and installation.
When it comes to shower door installation, nobody knows the needs of Oakland homeowners like Schicker. We've done thousands of installations throughout Oakland, Berkeley, Alameda, Richmond, Emeryville, and San Leandro, as well as the greater Bay Area.
Having done so give us a tremendous advantage when comes to understanding the needs of East Bay homeowners, whether we're talking about interiors, architecture, or design trends. We bring tons of knowledge and expertise to your shower remodeling project!
"Growing up in northern California has had a big influence on my love and respect for the outdoors. When I lived in Oakland, we would think nothing of driving to Half Moon Bay and Santa Cruz one day and then driving to the foothills of the Sierras the next day." – Tom Hanks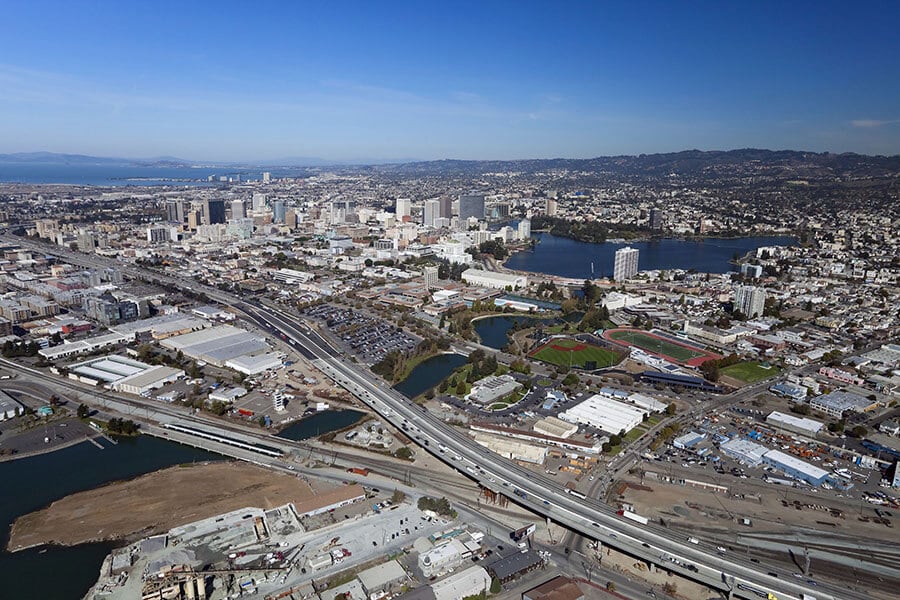 Where Can I Find Frameless Shower Doors in Oakland?
Anyone looking for Oakland frameless shower doors should come to see the amazing selection of shower doors, all glass enclosures, and all glass hardware on display in our beautiful Concord showroom. But if that's not an option, no problem because we can come directly to you!
One of our installation experts can come to your home to inspect your current shower or shower area, conduct measurements, learn about your preferences, and show you several different examples that will work for your needs, your space, and your budget.
There's never any pressure or commitment on your part.
We've found that a lot of Oakland residents prefer this way of doing business because it saves time and money. Not only that but it's nice to have an expert who can look at your existing shower, so you don't have wonder whether your shower door selection is the best one.
This is especially the case if you're thinking about a custom shower door or enclosure, where having an expert to measure the area and make a recommendation is an essential aspect of our services.
The best shower door for you is the one that checks all the right boxes. For you. And, since everyone is different in his or her own needs, the answer will be different for every person.
That being said, we can weigh the pros and cons, the advantages and disadvantages, and the features and benefits of each style to help you decide on which one you prefer.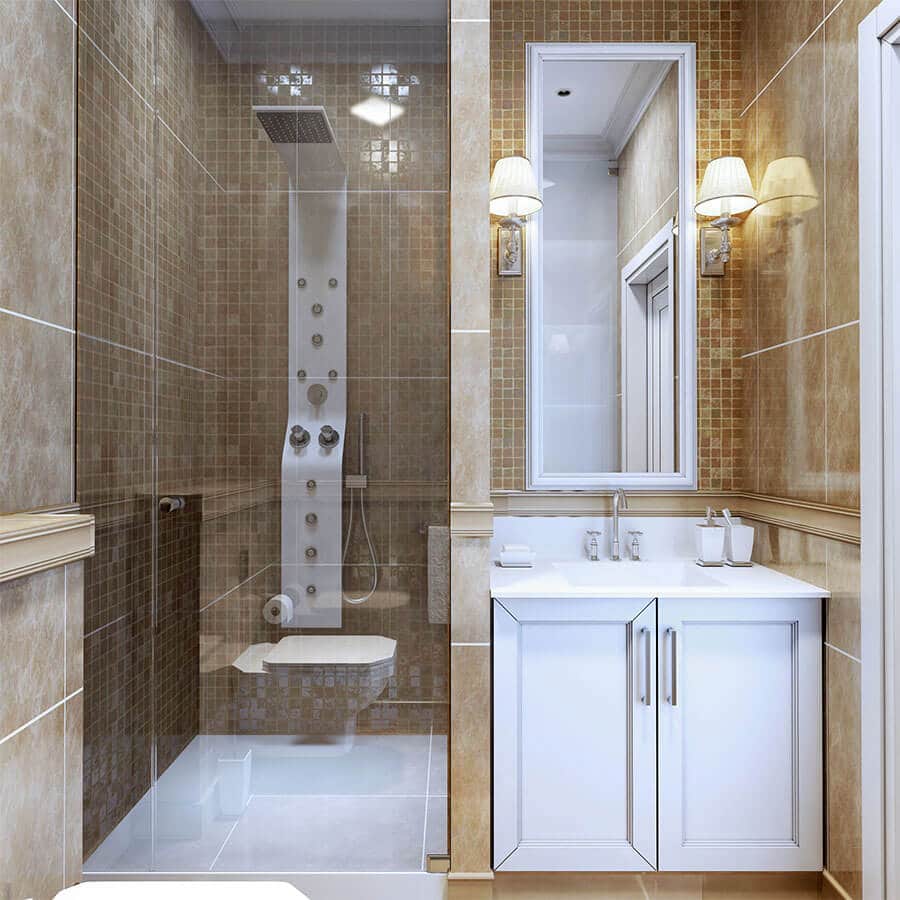 Are Frameless Shower Doors Worth It?
While all glass frameless shower doors are usually going to be more expensive than framed shower doors, most buyers will tell you the additional investment is well worth it.
In Oakland, frameless shower doors are generally more expensive than framed shower doors, in part because they'll usually require a heavier glass, but also because the installation requirements can be more challenging.
Frameless shower doors look sleek and clean in appearance. Since they don't have any framing, your eye is not drawn to the enclosure itself, only the background. So, if you have a beautiful tile wall or interesting surface material in your shower stall, the frameless doors would probably be the way to go, as it would only enhance its appearance.
The most common thickness for all glass frameless shower doors three eighths inch (3/8 "), which is also the minimum thickness to ensure the soundness and stability of the glass. While this is considered fairly thick glass, it's still light enough to safely mounted and maneuvered by users. (I).
One half inch (1/2 ") is second most common choice for frameless shower glass thickness, and it does look and feel more substantial than the 3/8. But that extra weight and heft will require more structural soundness for mounting and installation. By contrast, many single-paned, framed shower doors are made using glass that's only one quarter inch (1/4 ") thick because it's not only lighter, but also less expensive.
Another positive comment we hear a lot is that the heavier glass just feels more opulent and sophisticated. It gives one a sense of security and indulgence to enter, exit and be surrounded by such beautiful, clean heavy glass.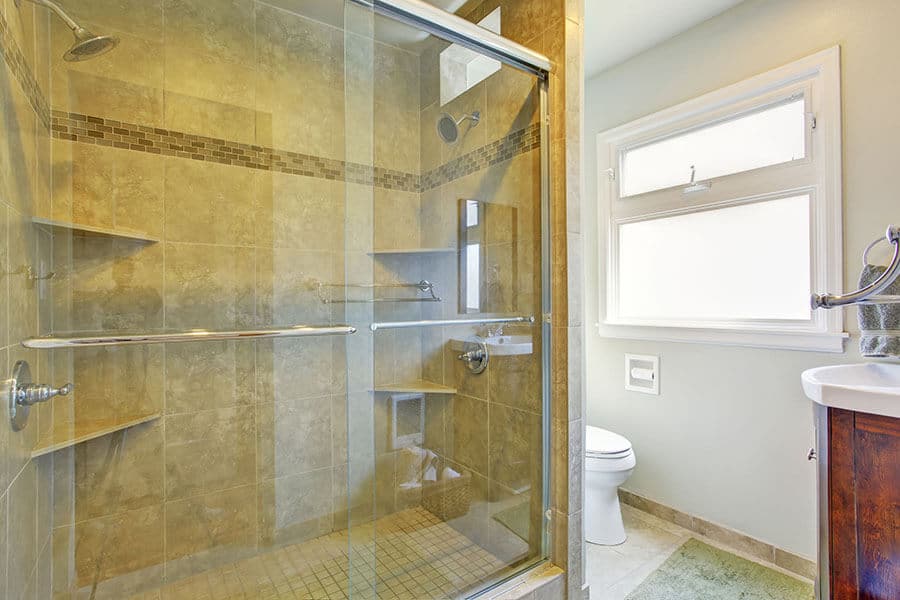 What Are Semi-Frameless Shower Doors?
As the name suggests, a semi-frameless shower door is a halfway point between fully framed and totally frameless. Typically, the only framing you'll see will be on the glass panels, not the surrounding enclosure. It could also be that the framing is along the top and bottom of each panel but none in between (II).
Oakland residents who buy semi-frameless shower doors do so because the design is just more eye-catching than with a fully frameless. Rather than have essentially nothing for the eye to lock on to, the semi-frameless has an esthetic quality that's just more visually stimulating.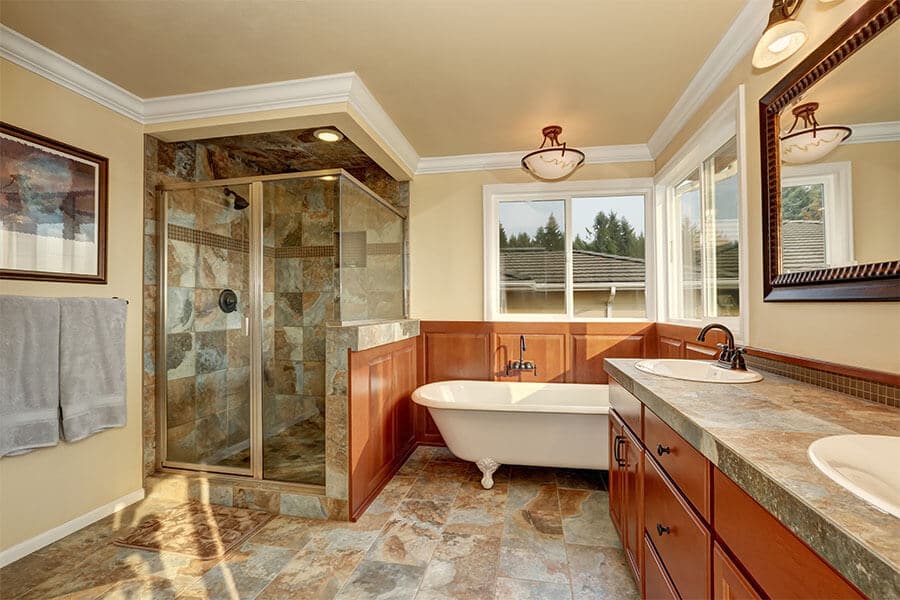 Are Framed Shower Doors Outdated?
No, framed shower doors are not outdated. There are several styles of framed shower door that are considered classic and timeless, such brass framed doors. Just because one style of shower doors is currently trendy, such as the case with frameless, it doesn't necessarily make alternative door styles "outdated".
Most Oakland homeowners choose their shower doors for pragmatic reasons as well as esthetic ones.
Framed shower doors have many advantages. For example, they're easier to install, which helps keep costs down. They can be better at keeping in water and preventing leaks from inside the enclosure. There are a myriad of design styles, metals and finishes to choose from. They're also cost effective because most framed shower doors utilize thinner glass, such as 1/4 ", saving you money.
As for drawback, there are a few. While framed shower doors are not in and of themselves "outdated", it is possible for a framed shower door to LOOK dated, especially if it's made with a much older finish. Design trends change all the time, and although a certain look may be trendy today, it doesn't guarantee that the look will continue appear fresh.
Another downside to framed shower doors is the space requirements. Since framed doors open outward, towards the bathroom, you'll need to have a bathroom big enough to accommodate the range of pivot that your door requires. If your shower door also opens inward, then you'll need a shower stall big enough to accommodate a full swing the other direction too.
Finally, some owners of framed shower doors in Oakland have said that they can be a little harder to maintain. Not only are you caring for the glass, but you're caring for the metal or aluminum frame as well. Soap scum, mildew and water can build up around the frame, where the metal meets the glass.
"A really beautiful product and excellent professional installation!" – Lerner H., Oakland
How Do I Order Oakland Frameless Shower Doors?
At Schicker, we always recommend starting with a free consultation and in-home estimate. This will save you loads of time and hassle by having one of our installation specialists come right to your home, take exact measurement, offer recommendations, and give you a clear, accurate estimate. This takes all of the guesswork out of the equation and allows us to do all the planning and preparation for you.
For Oakland residents, getting to our showroom is super easy. We're just a 30 minute drive over the hill in Concord. So, from either 980 or 580, you can take Highway 24 to Walnut Creek, then go north on 680 to Monument Blvd east. From there, it's a few minutes to Detroit Ave on the right.
Alternatively, you can just call or contact us and we'll be happy to come to you!
How to Get There From Oakland
References:
(I): Glass Doctor, "Shower Door Thickness: A Shopper's Guide", https://glassdoctor.com/expert-tips/all-about-shower-glass/shower-door-glass-thickness/
(II): Glass.com, "What Is the Best Thickness For Shower Glass?", https://info.glass.com/what-is-the-best-thickness-for-shower-glass/