Is Your Shower Ready for an Upgrade?
A bathroom is the one part of a home where you spend a lot of time by yourself, which is why it's important that it be an environment that's comfortable and pleasing.
Nowhere is that more important than the shower.
If your current shower door or enclosure isn't providing you an optimal experience, you may want to consider an upgrade.
There are numerous reasons for you to update your shower door or enclosure. Whether the glass and hardware look worn out from heavy use, or you simply desire a more modern look and style, you won't believe the difference a new shower door can make for your bathroom.
Why Adding Shower Doors Can Add Value to Your Home
There a very few items in your home that will be used as often and as regularly as the shower.
Depending on the design and style you choose to integrate in your bathroom, a new and stylish shower door can often become the centerpiece of the entire room.
If and when you ever decide to sell, having a luxury bathroom and shower will set your home apart from the competition and lead to more interested buyers.
What Types of Shower Doors Add Value to Your Home?
There are several types of shower doors available to suit almost every style and taste.
However, to keep things simple, we're going to look at five of the most popular types that homeowners are choosing for their bathroom upgrade projects. These designs all offer loads of style, luxury and functionality.
Crystal Clear Glass Shower Doors
"Crystal Clear" glass, also known as "low iron" glass, gets its name from the fact that its low iron content eliminates the greenish tint that would normally be visible with standard shower glass.
Sometimes referred to as 'optically clear glass', this is the height of luxury in shower glass. The transparent quality of the glass is so striking that it can almost seem invisible.
This is the perfect choice when maximum light transmission and minimal color distortion are desired.
Crystal clear glass can custom made for any shower enclosure or door, and can be tempered or laminated for safety.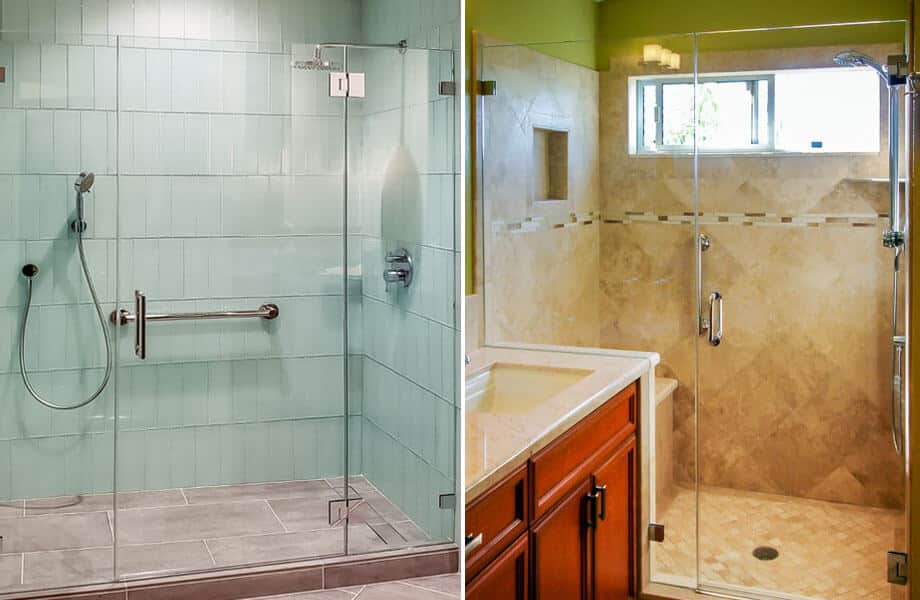 Frameless Shower Doors
Frameless shower doors are the ultimate in elegance. Utilizing a minimal amount of hardware for the hinges, and rollers in the case of sliding doors, this shower door design has become synonymous with luxury and sophistication.
When properly installed, these shower doors can almost appear to float, as if being suspended in thin air. And, because the hardware is almost unnoticeable, cleaning and maintenance become much less burdensome. There's less area for soap scum and mold to attach to.
Because the chance of rust or corrosion is so limited, these doors should last for a very long time.
It's no wonder that professional architects and designers choose frameless shower doors for their home and commercial projects.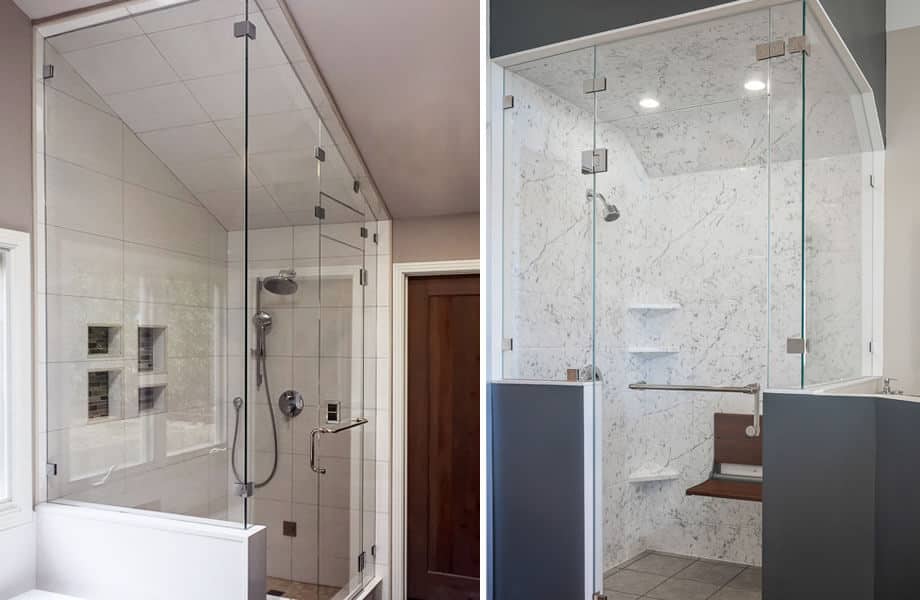 Steam Shower Doors
Steam showers are similar to traditional standalone shower enclosures that are not attached to a bathtub. However, instead of using water, a steam shower has a steam generator attached or installed in the wall, that produces a soothing steam.
Steam showers are usually still equipped with a standard shower head and will function exactly like a normal shower, but the steam feature is what makes this type of shower so appealing.
Another difference you'll see in steam showers is that they are fully enclosed and the glass goes from the floor to the ceiling in order to keep the steam inside. Most are fitted with a pivoting steam vent, called a transom, which can be opened for ventilation.
Sliding Shower Doors
Also known as bypass doors, these are one of the most popular shower door types for both small and large spaced bath areas.
Sliding shower doors consist of two or three sliding panels that move along rails. Since the door doesn't pivot outward, there's no need for a big floor area next to it.
Sliding shower doors use rollers, rather than hinges, to open and close the glass panels. Some showers will have either one or both panels that can slide in either direction.
This type of door is most common with a bathtub/shower combination.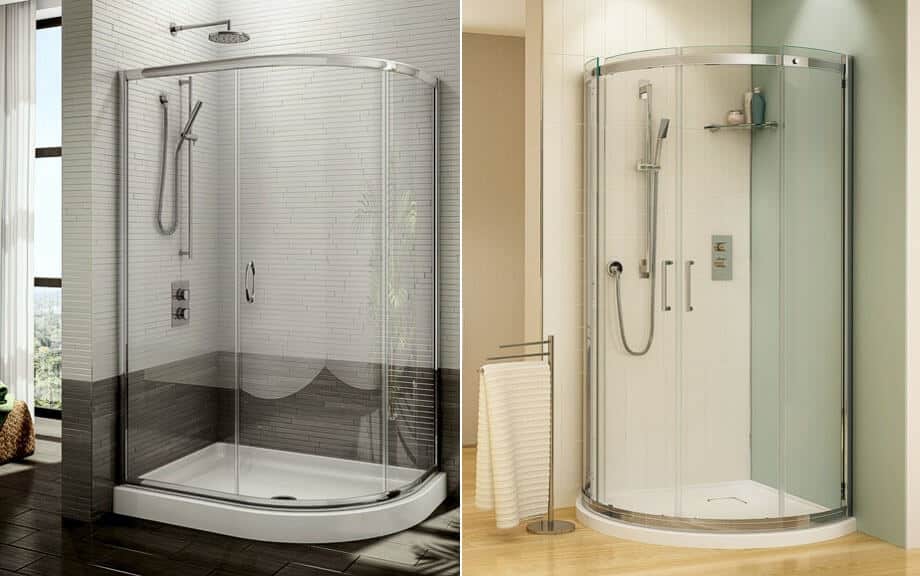 Curved Shower Doors
A curved shower door is one of the more modern looking styles of luxury shower doors that will truly set your bathroom apart from the ordinary. As the name suggests, curved doors are typically either a half-circle or oval shape, and open and close by sliding.
This type of shower enclosure is most often in a corner of the bathroom where the two side walls meet at a 90 degree angle.
Curved shower doors are flexible and beautiful, and this design will surely make your shower area stand out by giving it a luxurious appearance.
Bottom Line
A new luxury shower door with a stylish design will instantly make your shower area look brighter, cleaner, and more comforting. More importantly, it adds to your home's value and your quality of life.
We've looked at five different types of shower doors, but there are many more to choose from.
Before purchasing a new shower door, be sure to consult with an expert dealer and installer, such as Schicker Luxury Shower Doors, to discover all the luxury shower door options out there to the find the best one for you.
Contact Schicker today for a free consultation and estimate.