Looking for Shower Door Ideas?
Regardless of the shape, style or size, a new glass shower enclosure is a lovely addition that can completely transform your bathroom.
With modern manufacturing methods, hardware, and technological advancements, you can now find luxury glass shower door designs made with tempered glass that greatly reduce any risk from breaking, and special coatings that minimize stains and the need for constant cleaning.
A modern set of modern shower doors add a subtle air of sophistication and brightness to any bathroom. They are not only lovely but also useful and practical. Best of all, they won't ever look dated or obsolete.
Five Modern Shower Door Ideas
Let's look at five ideas for shower doors in modern homes to give your bathroom a sense of style and greater functionality.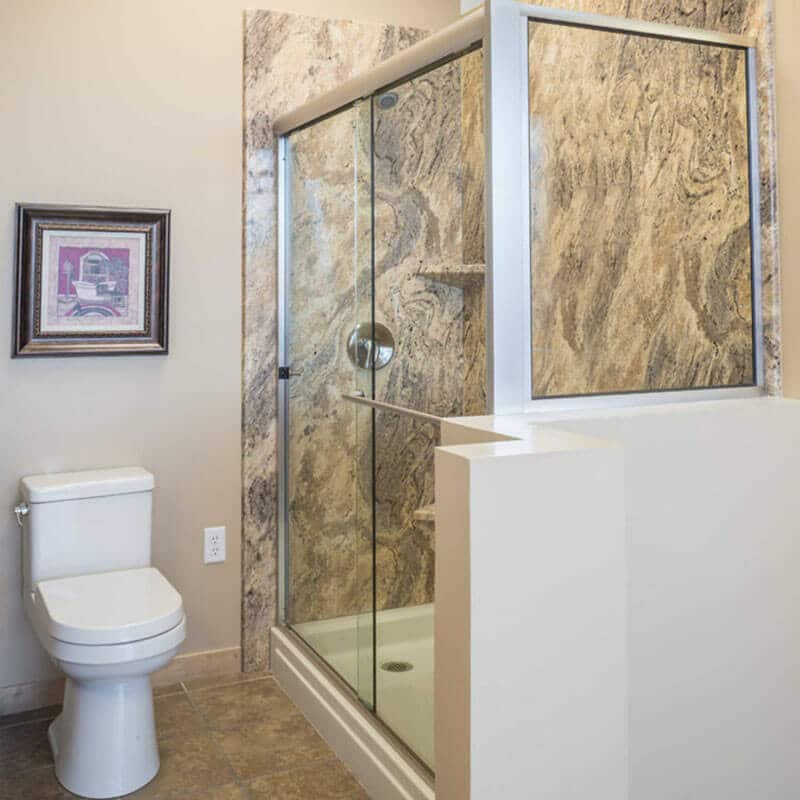 Brush or Matte-Finish Shower Doors
Matte or brushed-finish hardware and glass are in high demand and trending these days. This style of shower door makes water stains less noticeable, for one thing, and they're easier to clean.
In many cases the entire bathroom, including the wall tile, is matted to keep continuity and match the surroundings.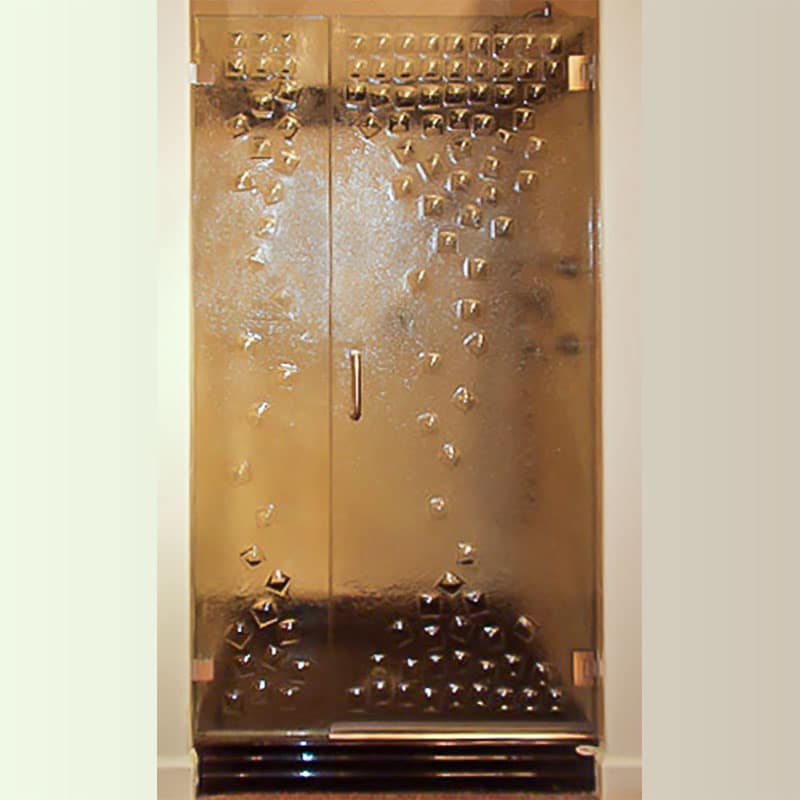 Tinted Glass Shower Doors
If you want a whimsical and interesting bathroom enclosure consider purchasing a tinted frameless shower door. Bright aqua hues and similar-colored tiled walls help balance and complement the overall appearance.
Tempered glass with a tinted matte finish is a popular choice and would beautifully suit any frameless shower enclosure. When selecting a flattering tint, however, you should consider to what degree the lighting will be natural or artificial because it may affect the instensity of the color.
Tinted glass will give your bathroom a distinctive appearance. Some hues, including various blues and greens, go nicely with beach-related themes, for example. Tints like pinks and yellows, on the other hand, are good for creating warmer tones.
Greys or neutral tints can be good for a more vintage style, especially if you have an older property that's more rustic.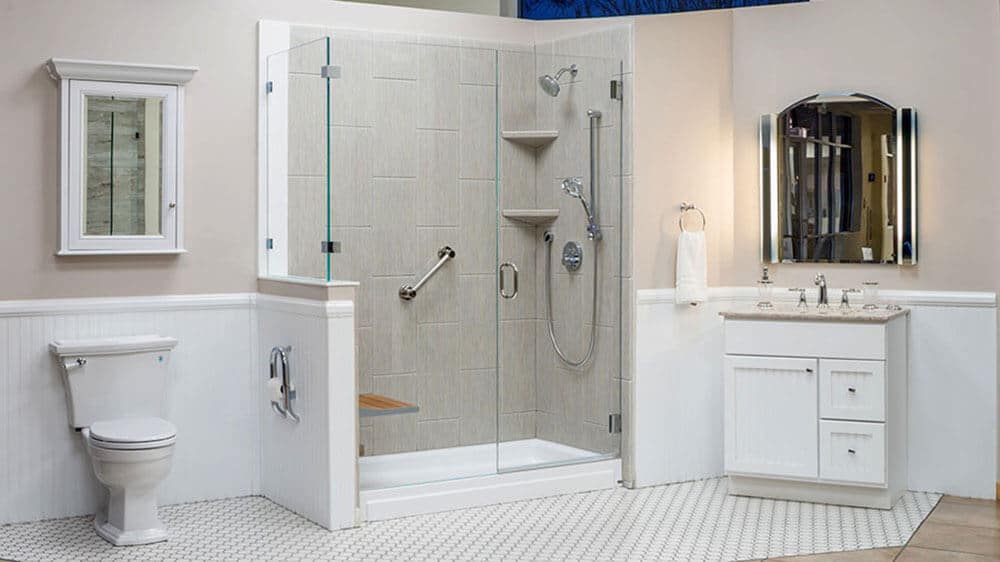 Frameless Shower Doors
This style of door has become widely sought after primarily for it's wonderful aesthetic properties. Frameless glass shower doors look clean and allow light into your bathroom unobstructed, giving your bathroom a sense of brightness and openness.
In comparison to framed or semi-framed shower doors, frameless shower doors are installed using a minimal amount of hardware. So you will generally only see metal at the hinges, for swinging doors, or on rollers for sliding doors. The end result is a look that is clean, minimalistic and elegant.
If you're looking to enhance the look of your modern bathroom then frameless shower doors are an excellent choice.
Textured Shower Glass Doors
Your bathroom will be instantly transformed if you install a glass shower door made of textured tempered glass. Additionally, it's one of the simplest approaches to incorporating the latest design trends as there are a huge variety of textures and patterns to choose from.
Another idea is to use shower glass in two contrasting textures. Consider mixing matte or traditionally polished glass with frosted frameless glass doors.
Etched glass provides an even different texture that is also very attractive. A variety of designs are available for textured glass panes. This type of shower door glass is often created by laying a smooth sheet of glass on a textured mold and heating the glass at high temperatures.
It is also known as patterned glass or decorative glass panes. The glass sheet is melted onto the mold using heat, and after cooling, one side of the glass gets a rough finish.
Common glass textures include reed-like patterns, which appear as lines of varied lengths running horizontally or vertically, grass and rain textures, cube and wave patterns, cracked designs, bubble textures, and more.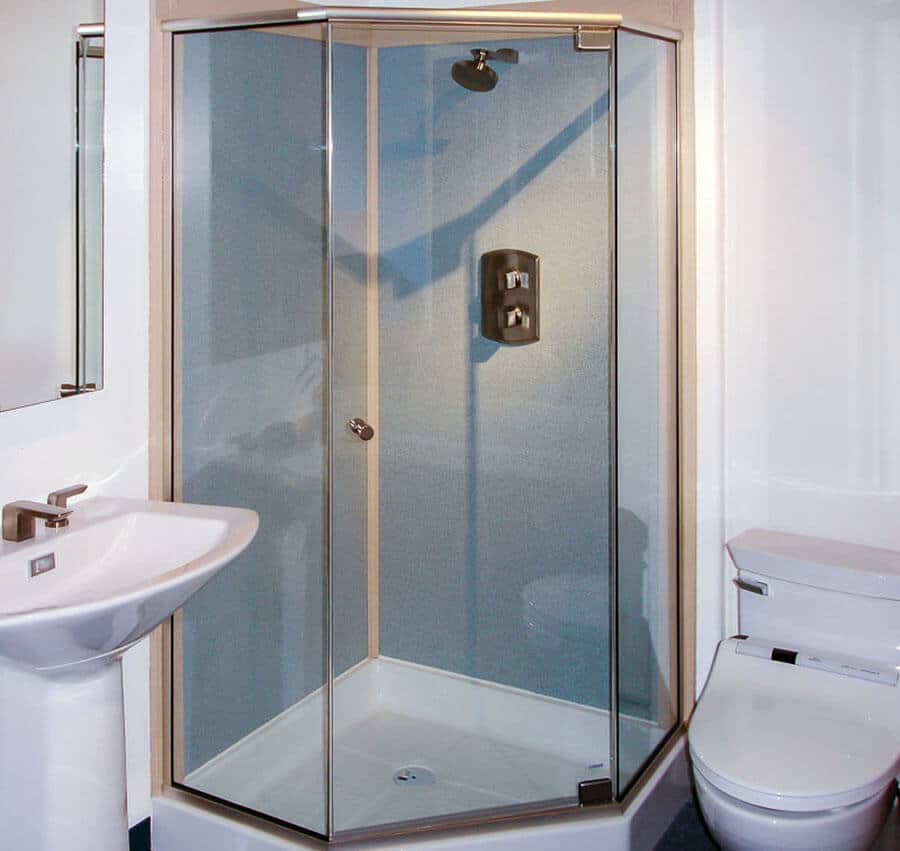 Corner Shower Doors
A corner shower is a great solution if you want to remodel your bathroom in a way that creates more space. There are several variations of corner shower doors to choose from other than your typical square or rectangular configuration.
There are also more modern looking curved or semi-round sliding doors, as well as neo-angle doors which offer a more interesting design quality to your bathroom.
The best reason for installing a corner shower door is for space utilization. You'll have more room to move around and organize other items such as towels, toiletries and bathroom furniture.
Hire a Professional Shower Door Company
We've looked at five great shower door ideas for modern homes. Matte-finish shower doors are trendy and add a beautiful look to your bathroom.
Tinted glass doors maintain your privacy and look interesting, frameless shower doors look neat and are easier to clean.
Textured shower doors lift the complete view of your bathroom, and corner shower doors are suitable for limited space.
This should give you enough information to start on your decision-making process as you plan your bathroom improvements.
Always consult a professional shower door installation company to get the full range of ideas and information. At Schicker, we always provide free estimates for new or replacement shower doors, and custom installations.
For more great shower door ideas, contact Schicker today for a free consultation or estimate!