Where Can I Buy New Glass Shower Doors in Pleasanton, California?
For Pleasanton, CA residents, your best choice for glass shower doors is Schicker Luxury Shower Doors located in nearby Concord.
Schicker has been selling and servicing Pleasanton glass shower doors for over three decades, with literally hundreds of satisfied customers in, not only Pleasanton, but Livermore, San Ramon, Dublin, and Danville as well.
If you take a short drive up 680, you can visit our spectacular showroom, to see our shower door and enclosure models, view different types of shower glass, browse our collection of shower door hardware, and talk to one of our expert shower door specialists to find out which glass shower door is right for your Pleasanton home.
Another very popular option is to have one of our consultants come to you! With a free, no hassle, no pressure in-home consultation, we can not only show you a variety of options, but we can also take a look at the bathroom where you want the new shower doors installed, take measurements and provide a free estimate for materials and installation.
What could be easier?
Pleasanton is considered one of the loveliest cities in the entire Bay Area, with a wide variety of homes and architectural styles, older, newer, large, and small. Schicker offers glass shower doors for every style, size, and budget.
How to Get There From Pleasanton
What's the Best Glass for Shower Doors?
There are several different types of shower glass you can choose from for your Pleasanton home so there are a few things to keep in mind when making your decision:
1. Style
2. Size
3. Budget
4. Privacy Level
5. Maintenance
Clear Shower Glass
One of the most popular – and most common – options is referred to as Clear Glass. Part of the reason for its popularity is that is one of the more budget-friendly choices, along with satisfying the needs of most homeowners.
Due to its iron content, clear glass will have a slightly green tint to it. This is more noticeable in certain lighting or different angles. When looking directly at it from the side, however, not so much.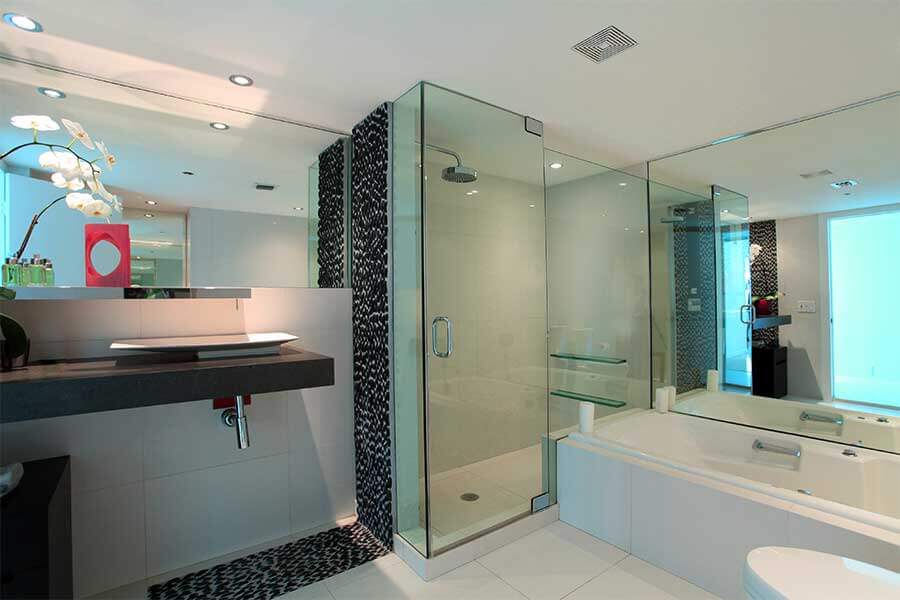 Low Iron Shower Glass
Another, but more expensive, variety of clear glass is called crystal clear glass. It's sometimes also referred to as HD Glass, or low iron glass.
The main difference is, obviously, that the iron content is significantly lower than standard clear glass, making any green tint almost unnoticeable.
Advantages & Disadvantages of Clear or Crystal Clear Glass
The main advantages to both clear and crystal clear glass are that they are relatively easy to clean and maintain, being clear means that they convey the appearance of more space in your bathroom, and, even after years of use, won't look old and outdated (I).
One of the few disadvantages of clear glass is that it offers no privacy whatsoever. In addition, it can have a tendency to show hand prints and smudges if not cleaned regularly.
Clear glass doesn't require anything more than standard window cleaning products to keep it looking nice. However, you can also go the extra step of adding a protective coating, such as Diamon-Fusion, to make maintenance and cleaning even easier.
Textured Shower Glass
This type of shower glass is perfect for those who prefer more privacy or a more decorative appearance.
The textures can range dramatically, from a popular rain pattern to bubbles or geometric patterns. The advantage to this choice becomes evident when you're able to match a texture glass pattern to the theme or motif you've chosen for your bathroom design.
The possibilities are practically endless!
One of the most popular patterns for textured shower glass is rain glass. As the name suggests, the rain glass shower door has a pattern that resembles tiny drops covering the entire side of glass. This is a great choice for more contemporary bathrooms, and is neutral enough to blend well with its surrounding.
Different textures also have different levels of opacity, which can affect the amount of privacy you desire, as well as other elements such as sunlight and the way light is either absorbed or reflected. Some textured glass is only patterned on one side, which could make a difference in this regard.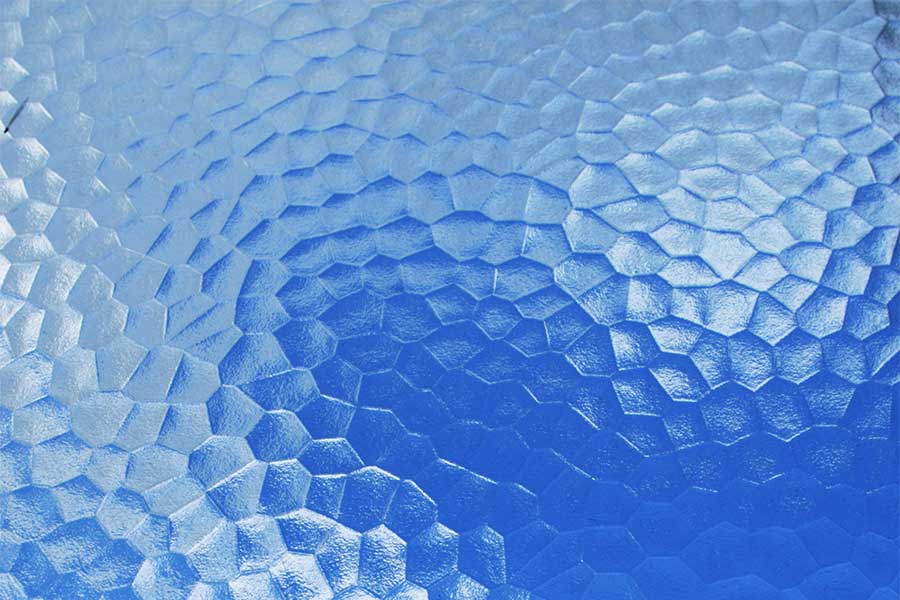 Tinted Glass
One of the main differences between clear glass and tinted glass is the amount of light that is able to pass through it. Obviously, the darker the tinting the less light that will pass through, which is why your interior lighting situation could play a part in your decision as to whether tinted shower glass is a good choice for your bathroom.
As with other types of non-clear glass, two of the most important considerations are privacy and esthetics. Depending on your preferences – or requirements – tinted glass can offer varying degrees of both.
Not only can you adjust the lightness or darkness of the tinting, but you can also choose a shade, color or tint that best compliments your bathroom's design. Popular tones include gray, bronze and black (II).
Tinted shower glass can make a dramatic impact on your bathroom's appearance and is a beautiful option for contemporary bathrooms.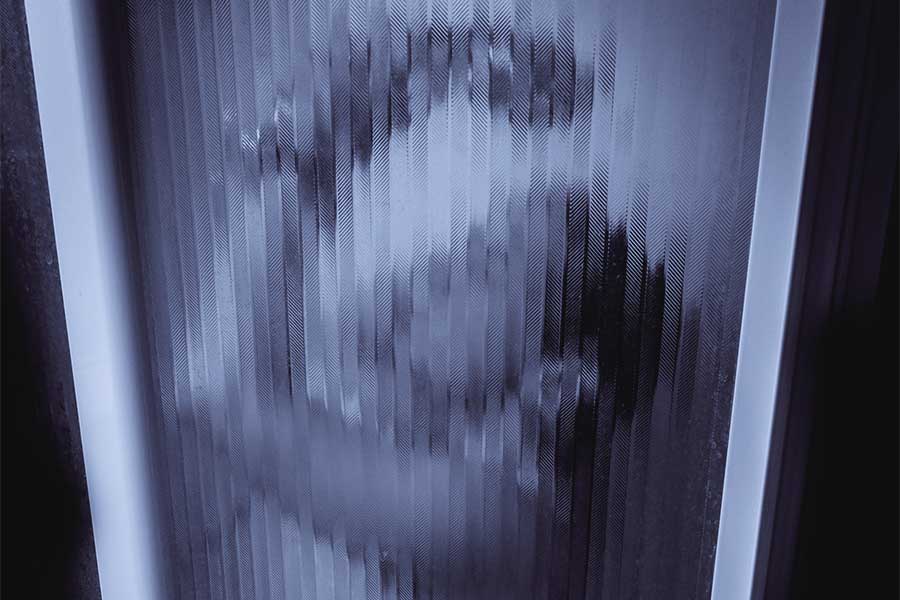 Frosted and Opaque Glass Shower Doors
For those seeking the greatest level of privacy, there is no other choice than this type of shower door glass. Some variations of frosted or opaque glass will completely obscure what is behind it, and prevent much light from passing through, which creates a translucent effect.
This type of glass is created using machine etching techniques, acid treatments and sandblasting, so the result is something that could be compared to textured glass, the main difference being the lack of a distinct pattern.
These shower doors can also be coated with a type of film that creates the desired opaqueness, and you can select the amount of light and detail that can pass through the glass.
It comes as no surprise that this type of shower glass is very popular with multi-member family households, and other living situations where privacy is a top priority.
For more helpful tips and ideas for Pleasanton glass shower doors, contact Schicker in Concord for a free in-home estimate. We'll be very happy to show you samples of these different glass types to help you make the best decision.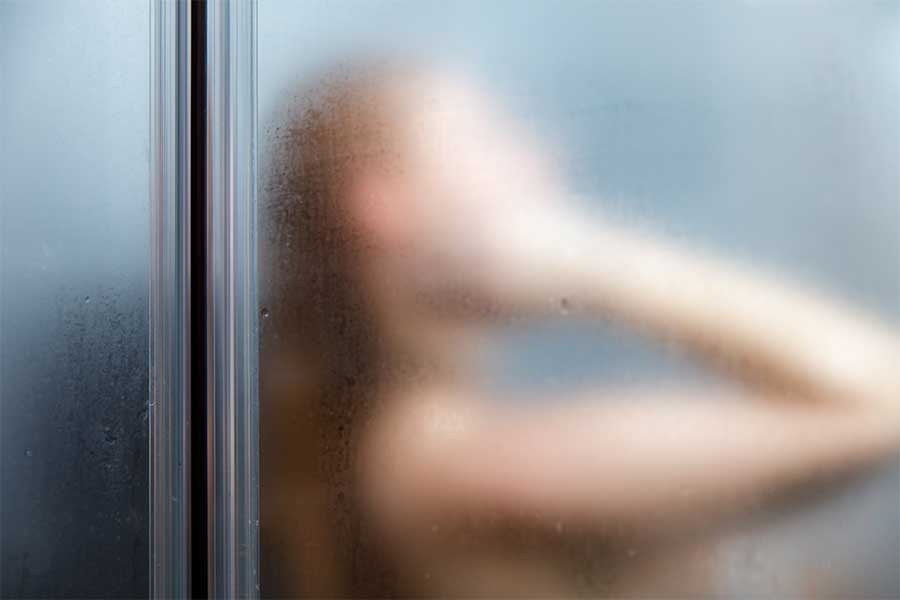 References:
(I): House Tipster, "The Pros & Cons of Glass Shower Doors", https://housetipster.com/housetips/611/the-pros-cons-of-glass-shower-doors
(II): Build.com, "11 Styles of Shower Doors and Glass Options", https://www.build.com/11-styles-of-shower-doors-and-glass-options/a18797