Finding the Perfect Shower Door
Nothing beats the feeling you get as you take a shower after a long day. However, for the perfect showering experience, you must consider the vital aspects of your bathroom, including the shower enclosure.
Shower enclosures offer privacy, safety and adds aesthetic appeal to your bathroom. Custom shower doors from Schicker Luxury Shower Doors, Inc in Concord are a perfect way to enhance your bathroom's design, and they are the ideal choice for homeowners in Danville, CA and the surrounding areas.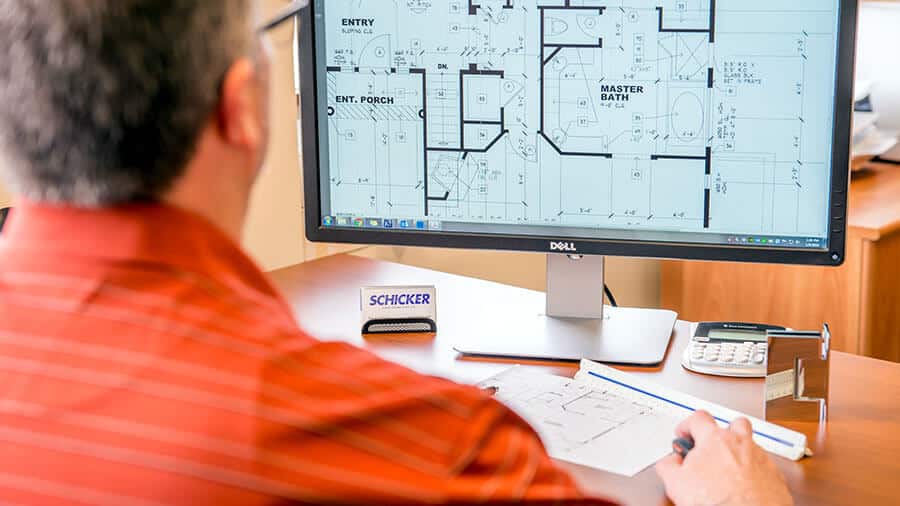 Why Choose Schicker Custom Shower Enclosures?
Located just minutes from Danville, Schicker Luxury Shower Doors in Concord specializes in a wide range of shower door products and services. Whether you're planning or remodeling your bathroom, our experts will help you choose the perfect shower door to suit your style and budget.
With dozens of styles, shapes and sizes to select from, all of our glass enclosures are designed bring out every bathroom's visual and esthetic beauty.
A few of the other benefits of our custom shower doors include:
Personalized Measurements
Our team understands that different shower spaces require accurate measurements for the enclosure to fit perfectly. Every project presents our team with a unique set of installation requirements that we must be met to complete the job successfully.
This all starts with inspecting the available space. We can schedule a free in-home consultation to take all the measurements, present various options for glass, frame, hardware and shape, then our design team can custom build a glass enclosure to the exact specifications.
Unlike the one-size-fits-all installation, our shower doors are designed for your space, hence giving a more bespoke and customized look.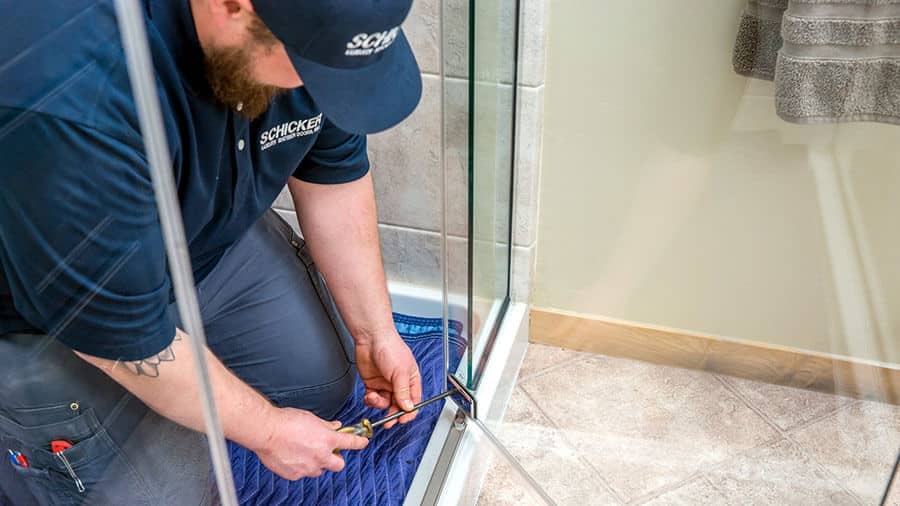 Endless Design Possibilities
Your shower enclosure must fit the space and conform to your bathroom's design. Fortunately, our custom glass shower doors allow your creativity to flow. They come with multiple design options that can suit the style and design needs of your Danville home.
Our company has everything you need to complete your bathroom design dream. You can choose from our all glass frameless, pivot, sliding, semi-frameless, or fully framed shower doors.
With all these options, nearly any configuration is possible with a fully customized shower door from Schicker.
A Wide Range of Glass Options
With Schicker, you'll have a full range of glass thicknesses and styles to choose from. This includes heavy glass, patterned glass, tinted glass and crystal clear (low iron) glass, just to name a few.
Partnering with reputable shower enclosure manufacturers is one thing that sets Schicker apart from the competition. We are equipped with the best quality products to give your bathroom the aesthetic appeal and functionality you've always dreamt of.
Our most popular custom shower doors are designed exclusively by Schicker, but we're also one of the leading west coast dealers of Alumax, UltraGlas, and Fleurco shower enclosures.
All the options can blend with your bathroom décor and other design elements while making a statement about your style. After all, our goal is to provide every homeowner in Danville with the shower of their dreams.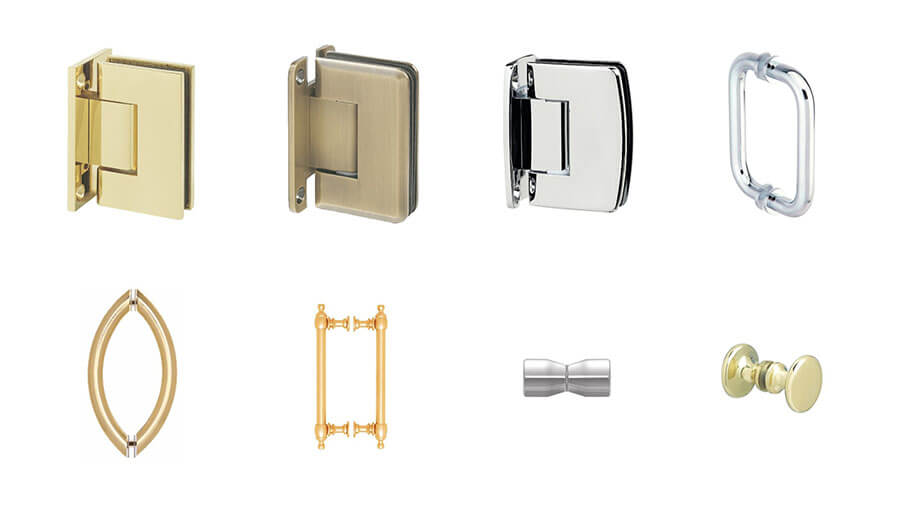 You Can Add Hardware Finishes to Match
Our custom glass frameless shower doors coordinate with a wide range of hardware elements. Our experts can help you choose the right hardware for your shower door installation, ensuring that your new shower glass is not only beautiful but solid, safe and secure.
Shower door hardware is available in a variety of finishes, so you'll have no issue matching the décor or theme of your bathroom's design.
Adding Value to Your Home
A custom shower enclosure is a worthwhile investment. You may be paying more for the customized fitting, better functionality, and clean look, but with the value it adds to your Danville home, it's money well spent.
Your custom shower door will be a major selling point should you ever decide to sell your home. It makes an immediate impact on the look and feel of the bathroom, giving off the "wow" factor that most potential home buyers are looking for.
You can learn more by browsing our gallery or visiting showroom. We'll help you find the option that best suits your needs. Or, better yet, you can contact us to schedule a free in-home estimate.
How To Get There from Danville