Why Use Our Professional Shower Door Installation Services?
Bathroom remodeling is a necessity and can be quite expensive. Cutting corners to save money will only cost you more in the long run.
Installing new shower doors involves exact measurements and unique techniques to ensure the job is done right the first time. Hiring an installation expert from Schicker Luxury Shower Doors, Inc. will save you money and time when installing new shower doors.
When designing your shower enclosure for your Walnut Creek home, you'll need a company specializing in this service. At Schicker Luxury Shower Doors, we can create an aesthetically appealing shower door that's beautifully crafted, perfectly measured and tightly sealed.
The following are the advantages of hiring our team:
Tools & Equipment
The right tools and equipment are required to have your shower doors installed with accuracy. As an average do-it-yourselfer, you might not have all these tools, and buying them for a single project will not be worth it. You might end up having the wrong tools or not knowing how to utilize them for a successful outcome.
It goes without saying that our company is well invested in the equipment required for proper shower door installation. We're also experienced in using these tools to ensure your shower doors are sealed, secured, and will stay firmly in place for years of daily enjoyment.
Knowledge
Our experts are highly trained and experienced in shower door design and installation. We can examine your bathroom and recommend the best shower door materials for maximum benefits.
"Love my new doors! Schicker exceeded my expectations. The two young men who did the installation were so efficient, professional and really nice guys. Great company!" – Bonnie G., Walnut Creek
Reliability
Shower door installation is a complex project that requires optimal care and attention. Our installation team guarantees top-notch quality work. We follow a systematic process and pay attention to every detail during the project. Also, we engage you throughout the process to ensure all your needs are met.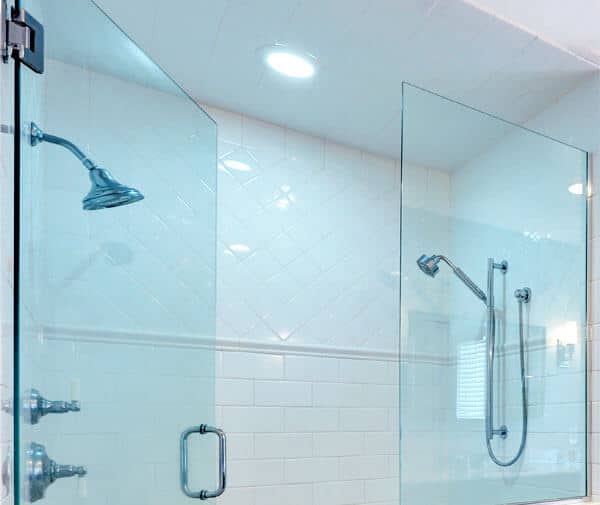 Timely Services
Installing shower doors requires adequate time for best results. If you choose the DIY route, you'll need to invest extra time to learn proper installation methods and purchase the necessary tools. However, when you hire our installers, your project will be executed within the shortest time possible.
We have worked on hundreds of shower door installation projects, so we have expert knowledge on the steps to follow for every installation. We're also equipped with all the essential tools. This will free up time for you to focus on other important aspects of your life.
Material Removal
Replacing your shower door means you first must remove and dispose of the existing ones. Our professionals include the removal of old material and packing associated with the replacements in their service. Unlike other companies, we also leave the work area clean after completing the job.
Optimal Safety
Working with glass shower doors can involve some risk of injury to inexperienced, novice or DIY installers. The project might involve reaching high and uncomfortable places, making the execution of the task somewhat unsafe.
Our experts are fully equipped with the required safety gear and are trained on how to avoid damage and injury. We also know how to handle unexpected incidents that may occur during the project.
Hire the Best Shower Doors Installers Today
Schicker Luxury Shower Doors, Inc. is the go-to company for glass shower door installation in Walnut Creek, CA. Contact us today, and we'll ensure that you get the best possible results with your new shower doors!
How To Get There From Walnut Creek