Who Carries the Best Shower Doors in San Rafael?
The best shower doors in the city of San Rafael and Marin County, can be found from Schicker Luxury Shower Doors. We carry the best in shower doors, shower door glass, as well as the best shower door installation and servicing.
Schicker has served San Rafael homeowners for over 30 years, providing in-home estimates and free consultations. We specialize in custom shower installations and can design a shower door or enclosure to your exact specifications.
In addition to being the largest west coast dealer of Alumax, Schicker also offers shower door products from Fleurco, UltraGlas, and our own line of all glass frameless shower doors and enclosures.
"Everyone was exceptionally pleasant and knowledgeable. We're so happy that we'll be calling you again to order & install one more! Thank you." – Sheri R., San Rafael
How Do I Choose the Right Size Shower Door?
For size, measure the width of the widest section, then look for a door that has an equal to the width of that section. This goes for both shower doors and tubs with doors. This is a fairly straightforward process that should be doable for most standard sized bathrooms.
For more custom installations, a better option is to have a professional shower door installer measure the space needed and have the door either custom ordered or custom manufactured.
What's The Best Style of Shower Door?
Another consideration is the door shape, of which there are several to choose from. Two of the most common are sliding, or bypass, doors and swinging, or pivot, doors. These two doors have very different functionality and installation requirements.
Sliding (Bypass) Shower Door
A sliding shower door has glass panels, one of which is fixed, and one that slides using wheel and track system. Sliding doors are excellent space-savers because, unlike pivot doors, which swing outward, sliding doors do need any additional space to be used. This really helps in homes with a smaller bathroom (I).
The look of sliding doors is elegant, and they are in many cases the most practical choice as most allow for entering the shower from either the left or right side. Additionally, they are one of the most popular types of shower doors in San Rafael.
Pivot Shower Doors
As the name suggests, pivot shower doors pivot on hinges, located at the top and bottom of the door, opening outward into the bathroom as most typical doors would, or inward towards the shower itself. This style of shower door will require a little more room to maneuver both inside and outside the enclosure since it has a larger footprint, so to speak.
The benefit of this door type is that they are generally very sturdy and provide a nice, clean fitting for the enclosure and can swing open in either direction.
The only downside is that they can be a bit more expensive than standard hinged doors (II).
""There's no half-singing in the shower, you're either a rock star or an opera diva." – Josh Groban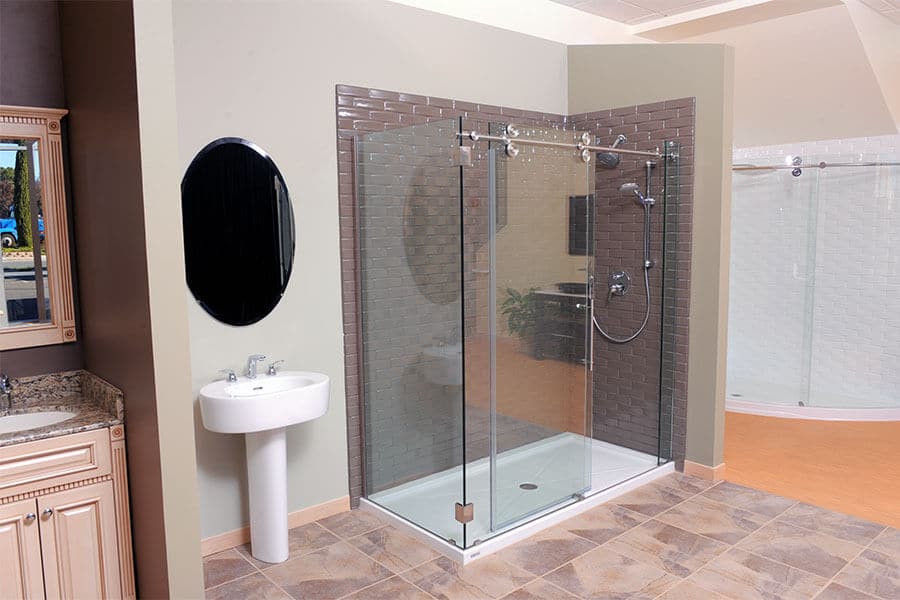 Hinged Shower Doors
Hinged shower doors can be found in both frameless and framed configurations. Like swinging pivot style doors, hinged doors are mounted on hinges and are a good choice for larger shower openings in combination with a dead (stationary) panel, or, for smaller openings, without a dead panel. The hinges themselves can be mounted to the wall or even the stationary panel.
Also, like the pivot doors, they will require more space in the bathroom for getting in and out of the shower.
Bi-Fold Shower Doors
A bi-fold shower door is a very interesting and innovative design, doing exactly as the name suggests by folding in on itself to make more room to enter or exit with ease. The door is in two separate panels that are connect in the center with hinges, so it can compress and slide as it's being opened.
In a way it's the best of both worlds between a sliding and a pivot door, with the main benefit being that it saves on space in a big way. It's also a very elegant shower door that really evokes a feeling of luxury.
Inline Frameless Shower Doors
An inline frameless glass shower is one of the most common configurations, with the fixed panel and door mounted to the wall. This style does allow for creativity in the many glass and hardware options available.
The inline shower stall has three walls and one opening, or entrance, to enter and exit. Clear frameless glass is a popular choice, especially for enclosures that have decorative wall tile inside the stall.
For inline showers, the shower doors and panels will always be fixed on either side by side or at perpendicular.
Neo-Angle Shower Doors
A neo-angle shower door have a very distinctive look, and are very easy to identify. Imagine a corner shower with two right angle doors adjoining at a perfect 90-degree angle. Then, take the corner where those to glass panels meet and cut it down the center to create an entrance into the enclosure. Now, put a door where that entrance has been made and you have a neo-angle shower.
This is configuration is one of the most popular for corner showers because of it's elegant appearance and excellent utilization of space. They provide the user a panoramic view of the entire bathroom, and from the outside an unobstructed view of the shower walls.
Not only do they utilize space well, but they enhance the feeling of space.
The middle door of a neo-angle shower is typically of the hinged or pivot variety.
How Long Does It Take to Install a New Shower Doors in San Rafael?
How long it takes depends on the type of door you're ordering. Most installations can be done in a matter of hours. Schicker takes the extra step of not starting any installation until all the necessary parts and materials are in-hand. That way, it doesn't become an never-ending "work in progress".
So, for example, if you custom order your doors, it may take two or three weeks for Schicker to receive your order, after which we will schedule your final installation date and time.
Schicker's showroom and offices are in Concord, but we serve all parts of San Rafael, Marin County and the greater San Francisco Bay Area.
For more information or an in-home estimate, just give us a call or drop us a line for a free, no hassle consultation.
How to Get There From San Rafael
References:
(I): Hunker, "Sliding Shower Doors: What You Need to Know", https://www.hunker.com/13726974/sliding-shower-doors-what-you-need-to-know
(II): House Grail, "Types of Shower Doors", https://housegrail.com/types-of-shower-doors/