Where to Find the Best Glass Shower Doors in Walnut Creek?
Schicker Luxury Shower Doors, of course!
Schicker is a name that most residents of Walnut Creek might recognize, due to the fact that we've been providing Walnut Creek glass shower doors, shower glass and glass door installations to homeowners in their local area for over 30 years.
We're located right next door in beautiful Concord, with a complete shower door showroom, shower door displays, shower glass samples, glass door hardware, and everything you need to make a well-informed, educated buying decision.
To make things even easier, we will be happy to meet with you at your home for a free in-home consultation, where one of our expert advisors can guide you through the entire process, from selecting they style, size and materials for you shower, to taking exact measurements for installation.
How to Get There From Walnut Creek
"Love my new doors! Schicker exceeded my expectations. The two young men who did the installation were so efficient, professional and really nice guys. Great company!" – Bonnie G., Walnut Creek
What Type of Glass is Best for Shower Doors?
Tempered glass is by far the most common type of glass used for shower doors. One of the key reasons for this is the personal safety factor, since tempered glass is about four times stronger than "ordinary," or annealed, glass (I).
Although it would take a tremendous amount of force to break a tempered glass door, in the rare event that this ever occurs, the glass is designed to disintegrate into chunks, rather than large shards with sharp edges.
Tempered glass can be found in a variety of styles and thicknesses. One of the most popular is clear, or "standard" clear. Ironically, "clear" glass is not the clearest type of glass you can find because the iron content is just high enough to sometimes give it a slightly greenish tint.
Low Iron glass, also known as HD glass, or crystal clear glass, is considered even clearer than standard because the reduced iron in its molten glass formula increases the transparency by as much as 5 percent or more.
Low iron glass is virtually colorless and perfectly transparent, allowing the natural light to fully transmit and illuminate your beautiful tiles.
What Is the Best Thickness for Shower Glass?
One quarter inch ¼", is considered the minimum thickness for a good shower door. The combination of weight, durability and lower price point makes it a popular choice for most shower door installation.
The next most common shower glass thickness would be 3/8", followed by one half inch 1/2″.
For obvious reasons, thicker glass can be a little more challenging to work with because it's heavier, and the extra heft might not be to everyone's preference. The thicker glass also necessitates very good quality hardware that's strong enough to support the weight.
On the hand, the thicker glass makes a statement of quality, good looks and strength, and for many buyers those plusses would far "outweigh" any perceived disadvantages.
What Is Textured or Patterned Shower Glass?
Textured or patterned shower glass is glass that's been treated to create visually interesting, and sometimes completely unique, patterns or effects that put more focus and attention on the shower doors themselves.
In many cases, homeowners will prefer this type of glass for the simple reason of wanting to create a privacy barrier, so the glass is not completely see-through.
Other circumstances might call for a glass pattern to compliment or enhance the existing bathroom décor, where a unique pattern can present more of an artistic statement. And while form may be the compelling feature of these glass doors, it doesn't at all mean sacrificing function.
Some of the most common choices for textured and patterned shower glass includes, frosted, satin, rain pattern, reeded, glue chip and glacier, among others.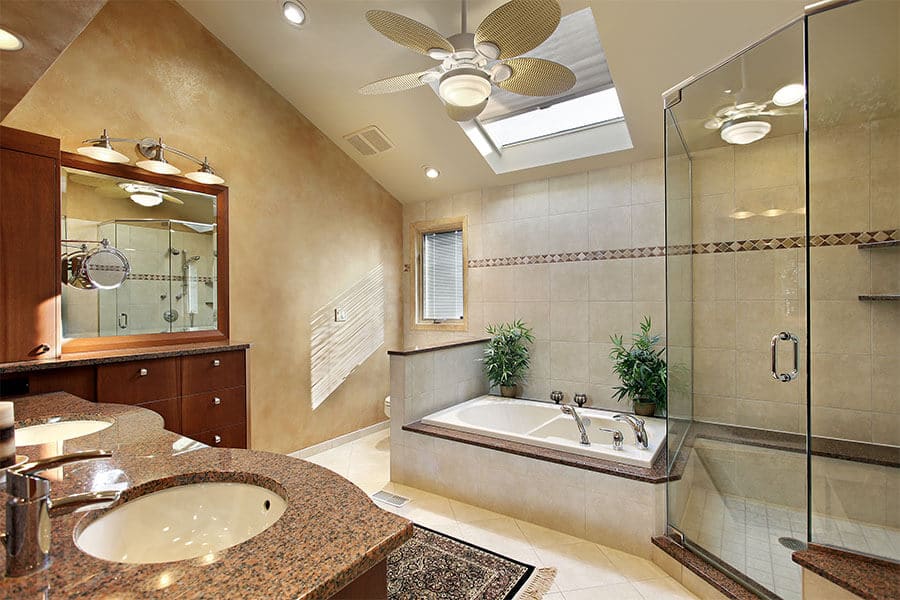 Are All Glass Frameless Shower Doors Worth It?
With over three decades in the shower door business, we can say without hesitation that all glass frameless shower doors are a great investment for your home. Not only do they enhance the beauty of your bathroom, but it will only help the value of your home should you ever decide to sell.
An all glass frameless shower door makes a very strong esthetic statement, and it can even become a great source of pride. It can make a very positive impression on house guests, if your guest bathroom has been outfitted with beautiful frameless shower doors.
The ease of maintenance, natural beauty and sophisticated appeal of all glass frameless shower doors will be an investment in your home that you will always.
Do All Glass Frameless Doors Leak?
All glass frameless shower doors are just as watertight as semi-frameless, or framed, which is another reason for their popularity. You don't have to choose between form and function.
A proper installation is critical to prevent any leaking – for any shower door – and Schicker is the leader for Walnut Creek glass shower doors, in both sales and installations, as well as ongoing service and maintenance.
We ensure a watertight installation, using silicone seals to fill in any gaps, along with clear polycarbonate seals and translucent vinyl to prevent any possible leakage.
"We love the shower doors – they're just beautiful and Jesse did a great job. Very customer oriented and personable!" – Jeanne A., Walnut Creek
How Much Does It Cost to Install All Glass Frameless Shower Doors?
The national average cost for the installation of a new glass shower door ranges between $537 to $1366, according to HomeAdvisor.com, but in Walnut Creek and most of the Bay Area, that average can be somewhat higher. (II)
Schicker specializes in higher end, luxury shower doors, which will generally run on the higher end of the price spectrum. However, our shower glass quality, customized service, and expert installation, provides a peace of mind that is worth every penny.
When it comes to your home, always rely on companies and contractors that have a track record of success and satisfied customers, a good standing in the community, lots of positive review on Google, Yelp! And the BBB.
Schicker has been a part of the Walnut Creek community for many years, and we plan to be here serving your glass shower door needs for many years to come!
Call or contact us online for a free in-home estimate. Better yet, drop our Concord showroom just minutes away from Walnut Creek.
References:
(I): Scientific American, "How is Tempered Glass Made?", https://www.scientificamerican.com/article/how-is-tempered-glass-mad/
(II): Home Advisor, "How Much Does it Cost to install a Shower Door?", https://www.homeadvisor.com/cost/bathrooms/install-a-glass-shower-door/