Where to Find Shower Doors in San Francisco
San Franciscans have excellent options for shower doors and bathroom remodeling projects, not only in the City but in the surrounding metro areas.
The good news is that for those us lucky enough to be living in the Bay Area, it's not even necessary to do a lot of driving around to find what you're looking for! Some of the best shower door companies, such as Schicker, will come directly to your San Francisco home and provide you with a free in-home estimate.
Additionally, you'll be presented with a wide selection of shower door ideas that are a perfect fit for your home's bathroom from an expert consultant, saving you loads of time by helping you find the San Francisco shower doors that are just right for your lifestyle.
Whether you're looking for a new or replacement shower door, a framed, all glass frameless, pivot, or custom design, Schicker will show you the sizes, styles, and glass options to go with your existing space. And, while Schicker is best known for luxury shower doors, we always strive to work within your budget.
In addition, our expert consultants can schedule an installation appointment that's convenient for you, to perform an installation that's timely and hassle free.
What Is the Average Cost of a Shower Door?
Shower door costs can range anywhere from $700 to over $1200, depending on the size and glass thickness. A custom shower door installation can typically cost as much as $3300, depending on the size and materials needed (I).
The important thing to keep in mind is that this is an investment. San Francisco home values, being among the highest in the nation, affords many home owners the ability and motivation to choose quality fixtures and upgrades that will not only enhance their comfort and enjoyment of the home but also maintain its value over the years.
"Excellent service and installation. Very impressed with the quality of our shower door." – Scanlon C., San Francisco
The short answer is, yes. While, in most cases, frameless shower doors require a larger investment than semi-frameless, or "traditional" shower doors, most buyers will attest to the advantages far more than any disadvantages.
The biggest appeal of frameless shower doors to our San Francisco customers is the esthetic beauty. The clean, minimalistic styling and absence of metal frames that allow more of your bathroom's interior to become fully realized. The shower enclosure becomes almost like an extension of the room itself, opening up the space to your eye. The accompanying hardware is so subtle that it seems to become suspended in mid-air.
Frameless shower doors come in a variety of shapes and styles, including sliding, pivot, neo-angle corner, inline or inline for a tub, and even custom designs. Your installation consultant can help you select the style, glass and hardware that will offer the best of all worlds.
What Is the Safest Shower Door?
If safety is an overriding concern, then tempered glass is your best option. It would take a great deal of force to break most shower doors, but even more so for tempered glass, which is four times stronger than ordinary glass. One of the safety advantages of tempered glass is that it is designed to shatter into very small, granular chunks rather than large, sharp shards of glass (II).
In the event that a tempered shower glass door did actually break, the likelihood of serious injury is minimized and the cleanup of the glass involves much less risk as well.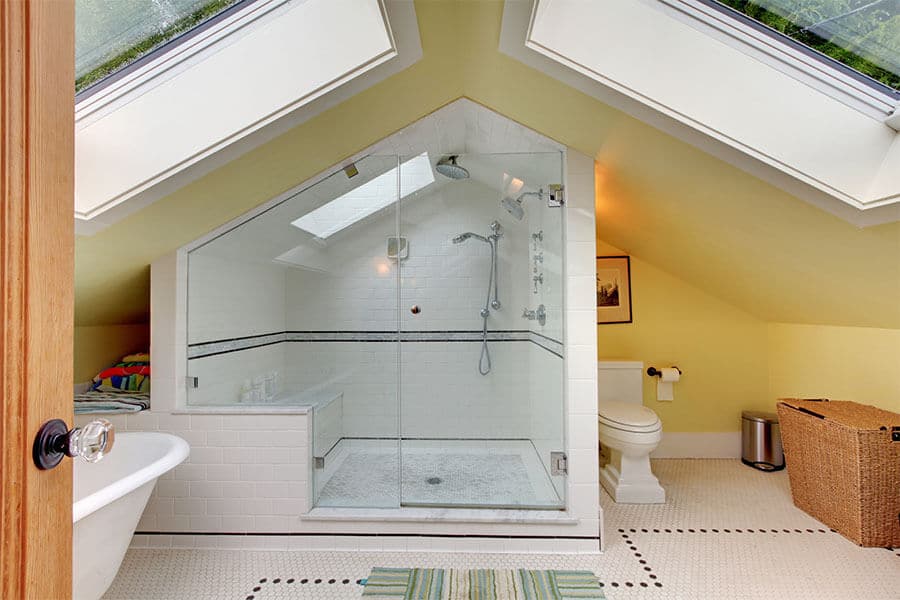 How Do I know When It's Time to Replace My Shower Doors?
If your glass is cracked, or even showing the beginnings of a hairline crack, it's time to consider replacing your shower doors. A crack in the glass is a problem which should never be ignored because it will always get worse over time and could eventually lead to breaking – a situation that should be avoided at all costs.
Additionally, if you see rust and corrosion on the metal hardware, this is another sign that age, wear and tear may be taking its toll, necessitating a replacement, and could also be causing the door to function poorly when opening and closing. San Francisco shower doors are particularly susceptible to this issue due to the salt air.
If there's discoloration in the glass due to long periods of buildup from soap scum or mold, water stains or mildew, this is another sign that your shower doors may have passed their due date. If you're unable to clean or remove these imperfections, the simplest solution is usually just to order a new one.
Of course, leaking is another common issue with older showers that shouldn't be ignored, and this can often be attributed to poorly fitted or worn out doors or hardware.
"Love our new shower doors. Wonderful, quality workmanship, extra thick glass and smooth rollers!" – Conrad L., San Francisco
Where Can I Find the Best San Francisco Shower Doors?
Surprisingly, your best San Francisco shower doors are found right next door in beautiful Concord. We'd love for you to come visit our showroom, which is just a hop, skip and a jump over the Bay Bridge. But if you're not in our neighborhood, we're more than happy to come to you! Just reach out by phone or send us a request for a free consultation, and we'll set up a time that's most convenient for you.
Our expert consultants will happily answer all your questions, take measurements, make recommendations and schedule an installation in one visit. No pressure, no hassle. We hope to get you the into the shower of your dreams!
How To Get There From San Francisco
References
(I): Angi, "Pros and Cons of Frameless Shower Doors", https://www.angi.com/articles/pros-and-cons-frameless-shower-doors.htm
(II): Delta, "Safety Glass and Shower Doors", https://www.deltashowerdoors.com/safety-glass-shower-doors/