Shopping for New Shower Doors in San Jose?
San Jose, CA homeowners, builders and architects have many options and stores to choose from, but it might surprise you to know that the best shower doors in San Jose don't have to be from San Jose. In fact, we believe our selection and service is so good that you won't even notice that our base of operations is in the nearby city of Concord.
Schicker Luxury Shower Doors provides expert design and installation to just about every part of the Bay Area, and we have hundreds of satisfied customers in the South Bay area alone. Our in-home estimates and consultations make is super easy to select and decide on exactly which style, size and brand of shower door is right for you!
"Schicker is in a class of their own! If only all vendors were as great as Schicker. A small company with resources of a big company. They can provide custom or standard glass doors, plus they're willing to modify the design to address problem installations." – Venda (actual Google review)
What Is the Most Popular Style of Shower Door?
All glass frameless shower doors are by far the most popular choice these days for homeowners looking to replace or upgrade their showers. This style of shower door offers beauty and elegance, as well as clean, unobscured edges and corners.
Compared to framed shower doors there are many differences that you should be aware of, including installation, maintenance, and cost, but the end result for most buyers is absolutely worth it.
Sliding frameless shower doors are equally popular, depending on what preference or existing configuration you have already in place. In fact, this might be the most common variety of shower doors purchased.
Framed shower doors are still very popular as well due to the incredible selection of styles and frames that you can choose from. For example, black grid shower frames are a very trendy choice in San Jose, at the moment, and brass frames are a classic that never go out of style.
A professional installer can make the best recommendations for you based on the size and shape of your bathroom. In many cases, a custom shower enclosure can be designed to your own specifications.
What Is the Most Popular Shower Glass?
Clear glass is by far the most popular type of shower glass in different thicknesses ranging between ¼" and ½". According to one of San Jose's largest home improvement chains, The most popular glass thickness for a frameless door is ¼" inch (I).
When paired with a frameless design, clear shower glass will open up the look and feel of your bathroom, creating a more open, spacious effect.
Some buyers are concerned with maintenance of clear glass, but it's a relatively simple process that, if done regularly, will prevent the buildup of soap scum, mildew and dirt particles that dull the surface. In fact, many people find a common product called, the Magic Eraser, to be very effective at removing soap scum from glass surfaces (II).
Schicker installers can walk you through the care and cleaning details and provide you with all the helpful information you need to keep your frameless shower doors looking beautiful for years to come.
Of course, there are many other glass styles you can choose from. Some prefer colored glass, encapsulated, or laminated, glass, etched, carved and sandblasted glass, in addition to other textures. If it's more privacy and design elements you're looking for, one of these may be your best choice.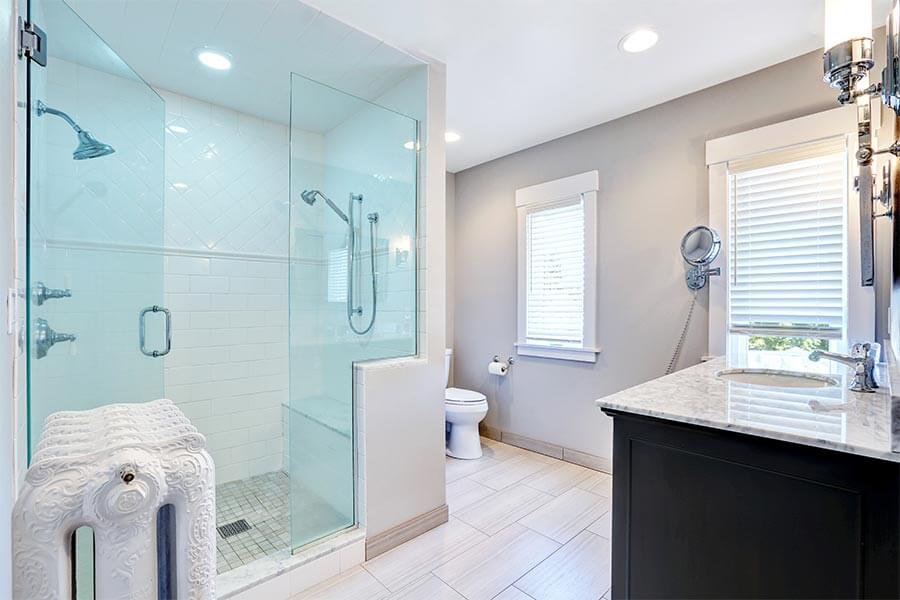 How Much Does a Good Shower Door Cost?
Depending on the type of shower door you choose, the cost of a quality shower door in San Jose can range from $700 to over $1300 – not including installation. When you start looking at installing custom shower doors, the cost can go much higher. We find most custom installations are generally around the $3000 price range.
Like most things in this world, you do get what you pay for. Cheap shower doors may be tempting if you can't afford the best shower doors in San Jose. But quality is a long-term investment and, if cared for properly, your new shower doors will last 20 to 30 years, easily paying for themselves. It's always better to spend a little more up front so it doesn't cost you more down the road.
Schicker Luxury Shower Doors specializes in custom design and installation of both framed and frameless shower doors, made of the best materials, glass and hardware, to ensure a long-lasting beauty and durability.
"With continuous improvement and outstanding service, we will make every customer a repeat customer." – Peter Schicker
How long does it take to install shower doors?
In most cases, it takes just a matter of hours to complete your shower door installation. Our installation professional will come to your San Jose home to complete a full inspection and measurement where the door is being installed.
And, depending on the type of door and design requirements, should be able to provide you with an accurate quote and time estimate for installation.
Our installers can provide detailed estimates for each of the following:
Custom Design for Shower Doors & Enclosures
Choice of glass, including clear, colored, frosted and with patterns
Choice of hardware in chrome, brushed nickel, and brass finishes
Choice of matching handles, knobs, towel bars, and robe hooks
Choice of straight or custom edge work
Custom measurements after your tile has been installed
Production to exact measurements
Professional Installation
Maintenance guidance to keep your shower door looking new
Custom back painted glass for kitchen back splashes
You've Found the Best Shower Doors in San Jose. Now What?
Getting your new shower doors is as simple as making a phone call or going online to request free in-home estimate. Schicker is looking forward to helping you make the best decision based on your budget, your home's interior and your personal preferences, and installing a shower door that you'll be absolutely in love with for years to come!
How to Get There From San Jose
References
(I): WikiHow, Clean Soap Scum from Glass Shower Doors, https://www.wikihow.com/Clean-Soap-Scum-from-Glass-Shower-Doors
(II): Lowe's, Shower Door Buying Guide, https://www.lowes.com/n/buying-guide/shower-door-bg