Shower Doors for Martinez Homes Since 1980
Over the years, Schicker Luxury Shower Doors has received high praise and recognition from customers in Martinez, CA because of our continuous improvement and the quality of our installation services.
We have established a long-standing relationship with our Martinez, California customers by providing them with the best possible shower door design and installation services. One of the main reasons for our success is our continuous training and dedication to making all our Bay Area customers completely satisfied.
Highly Trained and Dedicated Design & Installation Team
Our fleet of vans and delivery vehicles are equipped to deliver your new glass shower doors safely and with great care, by experienced and dedicated Schicker installers – never sub-contractors.
Our highly-trained sales staff members are available to assist you with any aspect of your project and answer any questions you may have about products or installation. They can also provide you with the best possible options on any enclosure to fit your needs and budget.
If you're interested in learning more about our shower door products or installation services, please contact us for a free consultation or in-home estimate. You can also visit our showroom, which is just a short drive from nearby Martinez.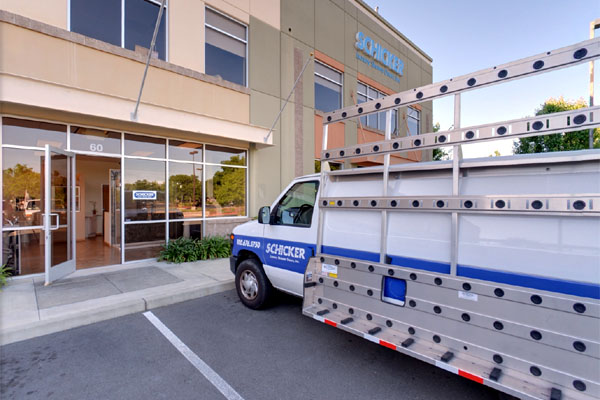 Shower Door Installation
Before you start installing a new shower door, take a look at your existing bathroom to determine the size and shape of the enclosure that will work best for you.
Aside from the size and shape of the enclosure, you need to consider the various options included in the project.
There are various options available, and some installations can get completed in just a matter of hours.
Shower Glass
There are many shower glass types and thicknesses. A standard glass enclosure for showers gets typically made of heavy glass, which ranges from 1/2 inch to 5/8 inch thick. Many manufacturers of these types of enclosures also commonly use lighter 3/16 inch and 1/4 inch thick glass.
As a general rule, heavier thicker glass will be a bit more expensive. In addition, the safety glazing used in these types of installations is required per industry regulations.
How Long Does the Process Take?
After receiving and accepting our quote, a professional will come to your Martinez or Bay Area home to take measurements. This step will allow the installer to finalize the quote and start fabrication. Usually, it takes around two hours for a three-panel enclosure to be measured.
A deposit is usually required to start the next phase of the project, which typically involves the fabrication and production of the shower door. This step usually takes around a day or two, depending on your order.
After the initial measurement, the next step involves polishing, cutting, and tempering the glass.
Depending on the project's complexity and schedule, we usually schedule the shower door installation at a time that works best for you, and when the shower door installation is finished, our technician will always clean up and leave your home and bathroom in the same condition they found it.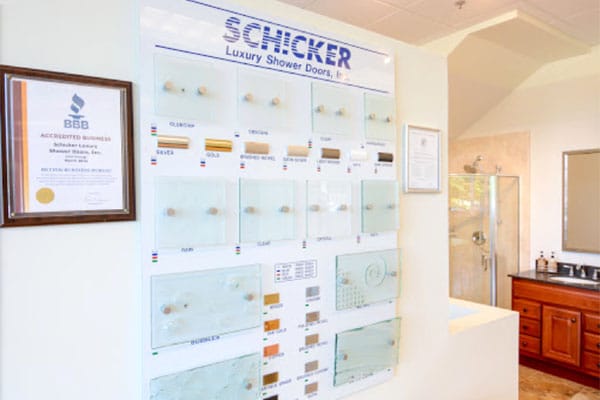 Shower Door Servicing
Schicker offers some of the best shower door services for Martinez that can be found. This includes cleaning and even repair services for your Schicker products.
Since we use only the best quality materials and installation practices, we can assure all of our Martinez, CA customers only the best possible results. Our entire staff of designers and installers are highly trained, experienced and passionate about what we do!
For more information, or to schedule a free consultation or in-home estimate, contact us today for assistance.
How To Get There from Martinez