What Are Rustic Bathroom Cabinets?
Rough edges, fading paint, worn down areas, and that antique look are all components of a rustic bathroom cabinet. Making changes to your cabinets to give them a rustic style can help you achieve the homey, rural, or country vibe.
Yet, as you consider your space, you may not be sure exactly how to change your cabinets to create the look you're going for. There are many ways to style your rustic bathroom cabinets in an attractive way. Below, learn about 5 popular rustic bathroom cabinet styles: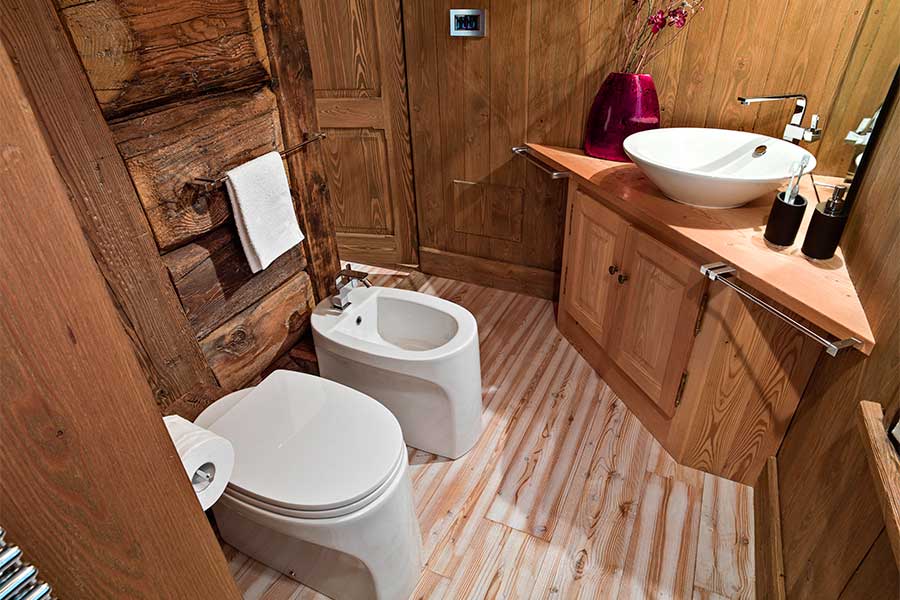 Natural Wood
Natural wood is the obvious way to evoke a rustic or country style. So, if you already have natural wooden cabinets, you're already most of the way there! You can take rustic to a new level by changing the stain color, removing shiny varnishes and opting for a less finished look.
It also helps to use a product called Pre-stain. Pre-stain seals the wood slightly and prevents some of the blotchiness and uneven areas you get in lesser woods such as pine (I).
Alternatively, you can look specifically for wood types that feature lots of knots and grain texture, giving the furniture a more rustic look. Some great examples are aspen, cedar, hickory, knotty alder, and some pine woods.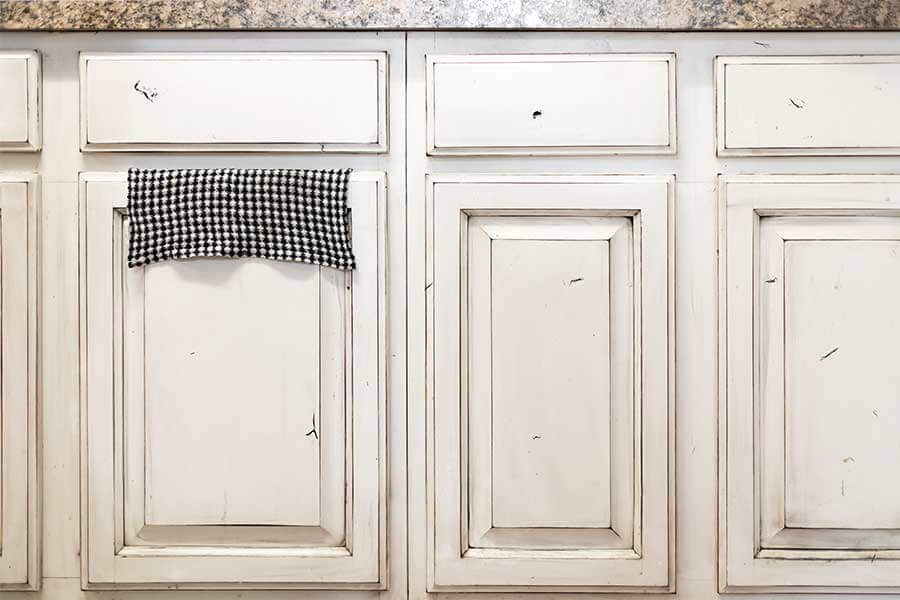 Distressed
Want to bring in that old, antique look to your cabinets? Then it's time to distress them! Whether painted or simply varnished, you can distress your cabinets to give them that rustic appeal. You can DIY or get a pro to help you transform your cabinets into relics that bring rustic to your bathroom.
One common way to achieve this look is with antiquing glaze. If you start with an already aged wood, the glaze should easily get inside the grain giving the desired effect (II).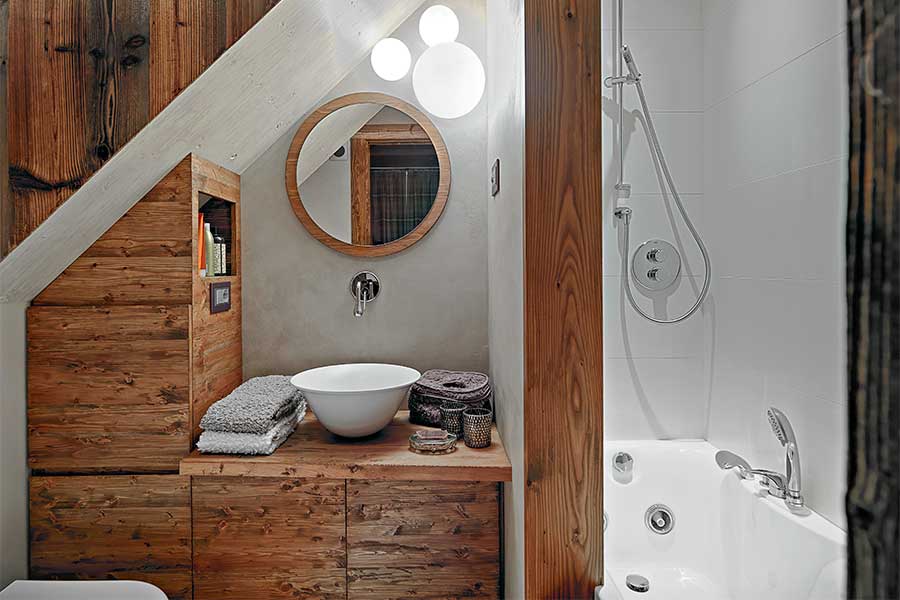 Antiques and Scavenged Pieces
There's no better way to achieve a rustic look than to bring in authentic rustic pieces. In lieu of a formal bathroom cabinet, you can use an antique dresser, table, vanity, or even a wooden barrel or bar cart. Modified, these antique or upcycled pieces can fit in perfectly to your bathroom, serving their practical functions while also adding to the aesthetics.
Barn Door Style
For those who love the country theme, barn door style cabinets are a must. You can turn any cabinet door into a barn door style door by adding pieces of wood that form an "x" over the existing doors.
Another popular barn door element is the sliding barn door. You can use this for a medicine cabinet or your vanity. Keep in mind that the sliding aspect often means that some of your cabinet will remain exposed or open. You can use wicker baskets or a series of shelves to keep this area neat and clean.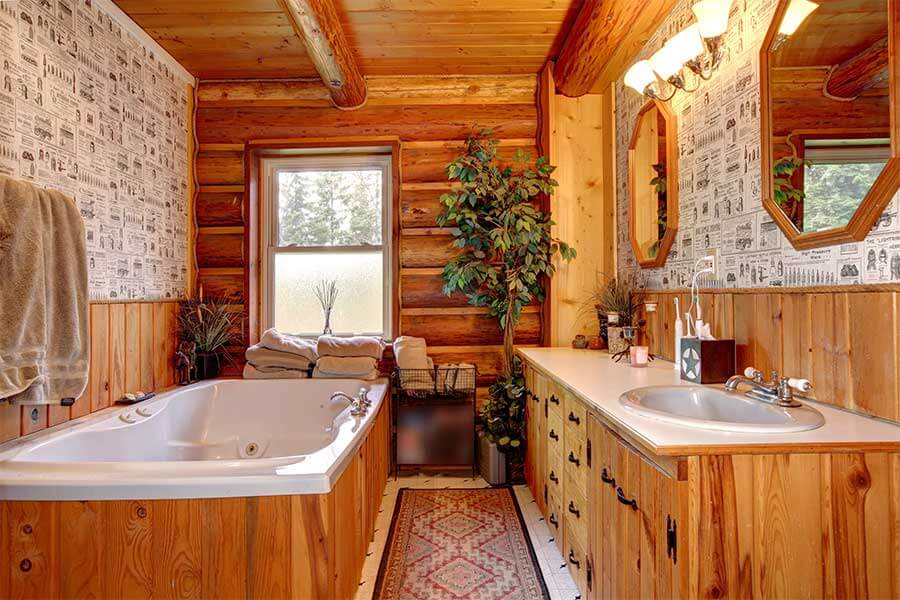 Rustic Hardware
Complete the look of your rustic bathroom cabinets with the right rustic hardware. For a truly rustic look, opt for finishes like iron, particularly cast iron, bronze, or copper. Another option is to use cuts of wood and pieces that resemble twigs. If you do choose a metal finish, be sure to coordinate the color with your other bathroom hardware such as the tap.
Be Creative with Your Rustic Décor
Combine any of these different strategies for transforming your bathroom cabinets into excellent examples of rustic design. For example, you might distress a natural wood cabinet and add cast iron hardware for a classic rustic look. Or you might prefer gray barn door style cabinet doors with attractive bronze hardware.
As you seek to create that rustic look, remember to follow your own personal preferences and think about how the cabinets will fit in with the rest of the bathroom. With some thoughtful changes, you can bring rustic to your bathroom.
References:
(I): EPBOT, "DIY Vintage Rustic Cabinet Doors", https://www.epbot.com/2013/02/diy-vintage-rustic-cabinet-doors.html
(II): Our Fifth House, "Distressed Kitchen Cabinets: How to Distress Your Kitchen Cabinets", https://ourfifthhouse.com/2011/07/how-to-distress-your-kitchen-cabinets/