How to Clean Grout
Tile grout looks amazing when it's new and white. At the very least it should be something that blends into the background, almost invisible, providing the perfect framing and backdrop for your shower or bathroom tile.
Yet, when slimy black mildew covers the grout lines between the tiles on your bathroom floor, the look is ruined. Notoriously difficult to clean, dirty grout can seem impossible to keep up with.
So, what can be done about it?
Fortunately, we've got some grout cleaning tips the professionals use that can help you make sure that your grout always looks fabulous, giving your bathroom and shower enclosure the fresh, clean look it deserves: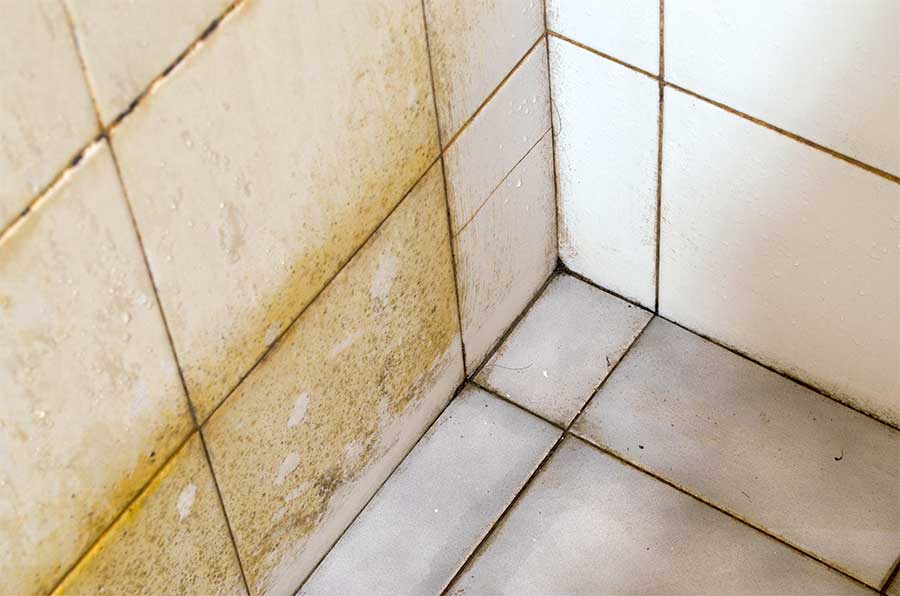 Best Homemade Grout Cleaner
Look in your cupboards and you'll probably find some of these ingredients that are perfect for cleaning your grout. But, before you start rummaging, try hot water with a stiff brush. Then, try one of these recipes:
Mix together one fourth cup of hydrogen peroxide with a half cup of baking soda and a teaspoon of liquid dish soap. Cover your grout with the paste and let it sit for a few minutes before scrubbing and rinsing with hot water (II).
A mix of equal parts baking soda, vinegar, and water in a spray bottle is an alternative DIY solution for cleaning grout. Do be sure to dilute the vinegar and test on a small area because vinegar can damage your tile. After spraying the grout, allow the mixture to sit for a few minutes before scrubbing and rinsing. Avoid using vinegar on unsealed grout (I).
A solution of bleach diluted with water is another mixture that can turn your stained grout white. Like vinegar, bleach can also damage tile, so only use this DIY solution for occasional cleaning.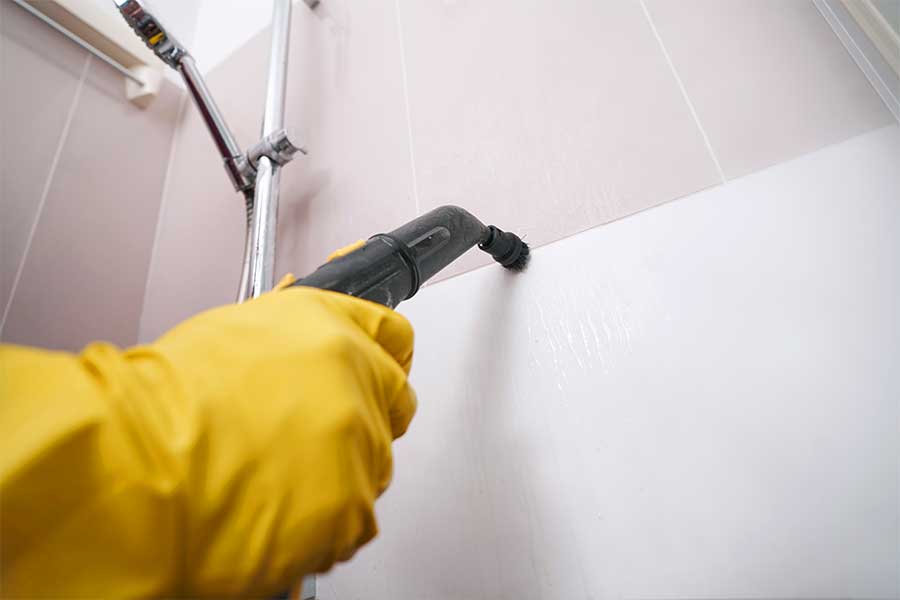 Professional Products
For stubborn dirt, try a professional product designed especially for the mildew, mold, and water stains that grout is prone to. Some examples of these products include:
A grout eraser
Mold remover sprays
Grout brushes
There are a variety of brands and products that you can use that can help you turn around a bathroom that hasn't been deep cleaned in a while. Then, you can use the DIY methods for monthly maintenance.
Steam Cleaning
For a bit of an investment, you can also kick grout stains out of your bathroom by renting a steam cleaner. Highly effective, steam cleaning is a good option to give your bathroom a clean slate.
Since rental costs can add up, you probably won't want to count on this method for your routine cleaning. Or you can purchase your own steam cleaner. Do make sure you find one that will work on tiles and walls.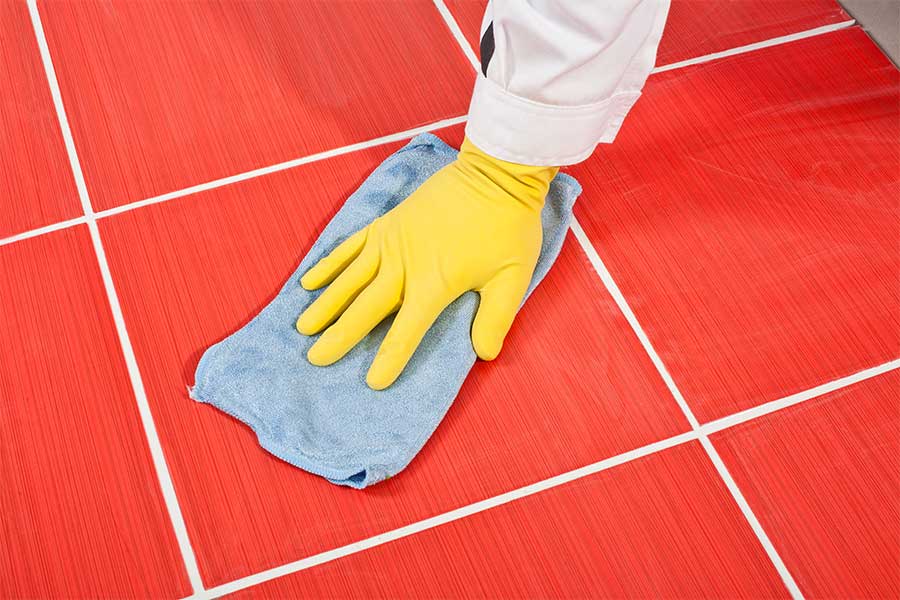 Grout Renewal
Sometimes, grout stains are impossible to remove. In these cases, you still have another alternative, which is to purchase a grout renewal product.
These products are applied on top of clean grout, refreshing the color of the grout and prolonging your grout's life. You can choose the same color as the grout you already have or opt for a darker color that will be less likely to show stains in the future.
Grout Sealant
Once your grout is bright and clean, you don't ever want it to get as stained as it was before.
One way to protect your newly white grout is to apply a sealant. This is another job that you can DIY or do with the help of a professional. All you need to do is make sure you find a sealant that's compatible with your type of tile and grout.
With these solutions, you can enjoy beautifully clean grout that highlights your tiles instead of detracting from them.
We hope you're able to achieve the stunning results your bathroom grout deserves.
References:
(I): Bob Vila, "8 Ways to Clean Stained Grout", https://www.bobvila.com/articles/cleaning-grout/
(II): BrenDid, "The Ultimate Guide To Cleaning Grout: 10 DIY Tile & Grout Cleaners Tested", https://brendid.com/ultimate-guide-to-cleaning-grout-and-tile/