How to Choose the Right Shower Door Shapes for Your Bathroom
The concept of a shower door is fairly simple and straightforward; a panel of glass that allows you to access the shower and keep the water contained inside the enclosure. However, there are a myriad of shapes and styles to choose from. So, if you plan on replacing old shower doors or installing new ones, you'll want to make sure that you make the right choice for your shower door needs.
The most common shapes include rectangular, neo-angle, curved, corner, and semi-oval or quadrant shower doors.
Some of these are more common than others but all of these shapes can be commonly found in most American bathrooms.
What Determines the Shape of a Shower Door?
The shape of the shower door is mainly influenced by the placement of the enclosure in the bathroom. For example, it could be midway between two walls, in the corner of the room, or in some cases, it may even be standing alone in the center of the room. Of course, showers are often combined with tubs as well.
These different orientations determine how many glass panels may be required and what shapes will or will not work.
If you're still unsure of what shower door shape is right for you, we've provided a brief guide below with a description of each: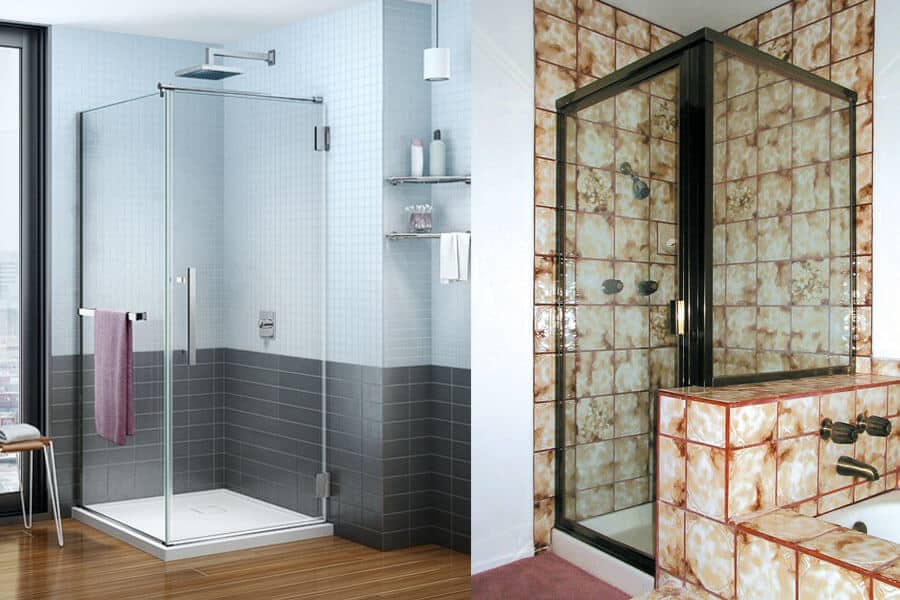 Square Shower Doors
Not surprisingly, one of the most popular shapes is the square shower doors, ideal for any size bathroom, but especially smaller ones. It can be easily fitted onto either a wall or a corner. This design also offers a modern and stylish look without taking up too much room and provides the bathroom with more space than a quadrant-style enclosure.
Square shower doors are also well suited to areas with greater space, such as large bathrooms that can easily accommodate its modest footprint where it's most convenient, leaving more room for other amenities.
Another advantage of this shape is that because of its popularity there are many more options to choose from when it comes to glass types and glass hardware. Whereas when compared to a curved shower door, for example, there may be fewer of the same options available.
A rectangular shower door has similar advantages, which we will cover next…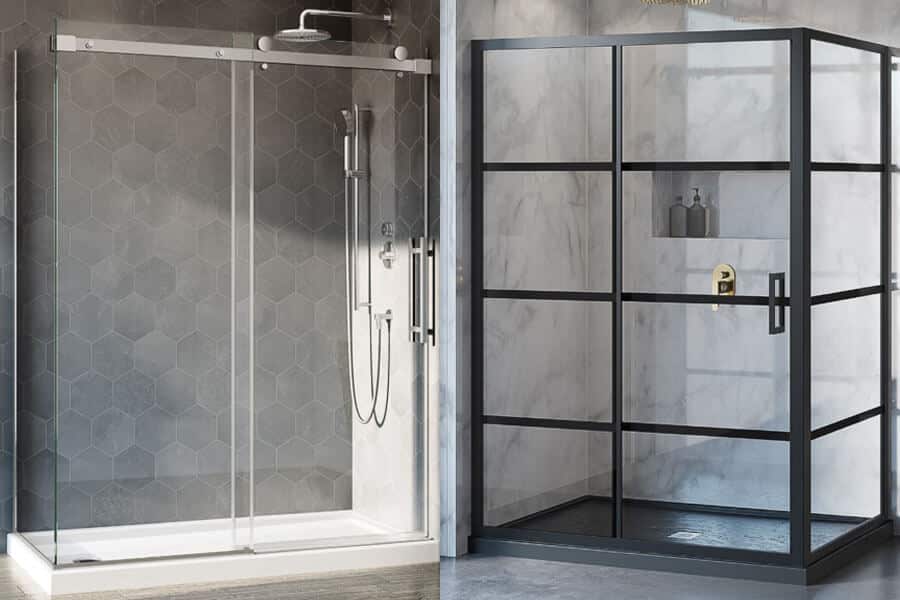 Rectangular Shower Doors
The rectangular shape of a shower enclosure is of course very similar to that of a square, but it's also more versatile since the width can be customized based on your needs. For example, if you have a larger bathroom where space is not a concern, rectangular shower doors may be your best option.
This enclosure can be installed along a flat wall with 3 sides, in a corner with 2 sides, as part of a tub unit or, in some cases, it can even be a standalone unit.
The average size of a rectangular enclosure in the U.S. is about 60" wide by 42" deep.
A well-designed rectangular shower enclosure can add a touch of class to any bathroom. Whether you have a standard shower or if you are planning on creating a new one, glass shower doors are becoming more and more popular, and the rectangular configuration is the most obvious choice for many bathrooms.
Being one of the most common shower types, the rectangular shower enclosure is extremely versatile when it comes to customizations. There are a multitude of framed and semi-frameless styles with designs and finishes to accentuate your bathroom's décor, as well as frameless variations that convey an understated elegance and sophistication.
Another advantage of frameless shower doors is to help create the sensation of a larger space without detracting from the look of your tile, wallpaper, or other accessories.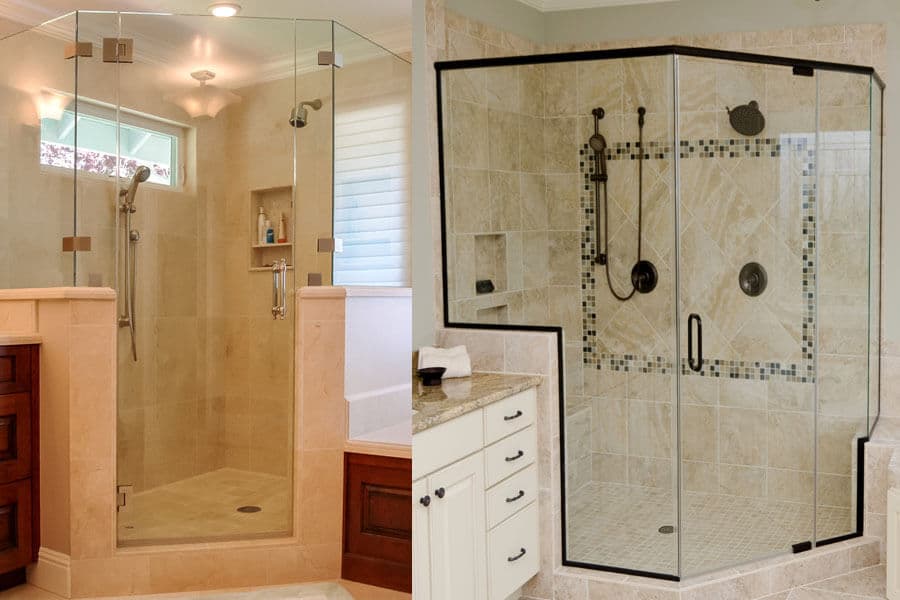 Neo-angle Shower Doors
A neo-angle shower door is a space-saving option for corner shower enclosures that feature an angular design. The neo-angle design is an enclosure with two connecting walls and three glass sides, creating a diamond-shaped look that is best suited for large corner areas.
This shower door type will typically come with a swinging door that opens outward and away from the center panel of the enclosure, so it's important to have enough space to accommodate its larger footprint.
This shower type gets its name from the angle of the center panel, which looks like a cube that's had one corner made flat.
The side panels can be made of various combinations of glass, either full or half, making it one of our most versatile shower door shapes.
An essential factor you should consider when choosing a neo-angle shower is the angle of the door, which will usually be facing the center of the bathroom. If yours has a comfortable amount of room in the center, then this might be a great option for you!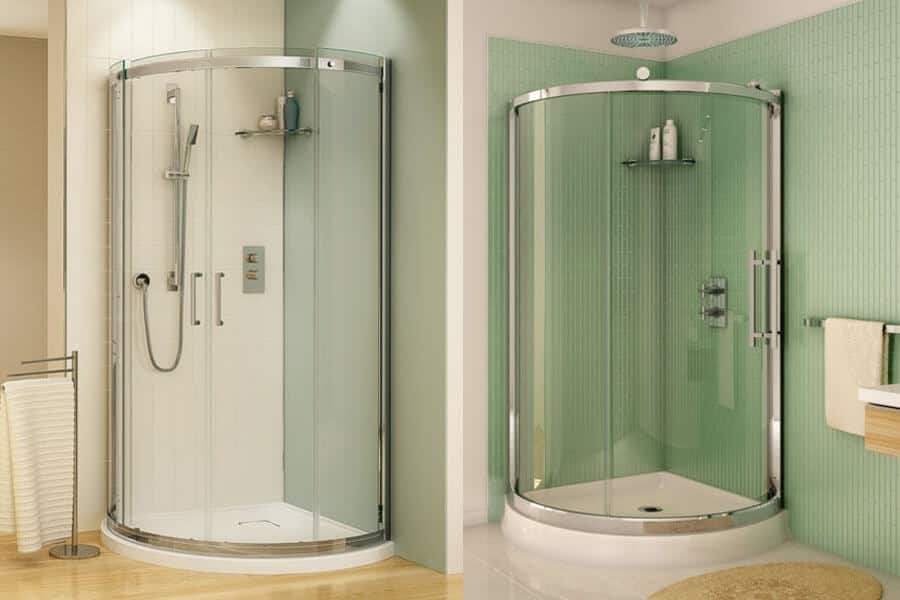 Curved Shower Doors
Homeowners who prefer the curved and half-circle shower door do so because of its sleek and modern design. These enclosures exude and upscale sophistication, and they will often come with the price tag to match.
In addition to being beautiful to look at, curved shower doors are also more space efficient, making it an excellent choice for smaller bathrooms and corner units.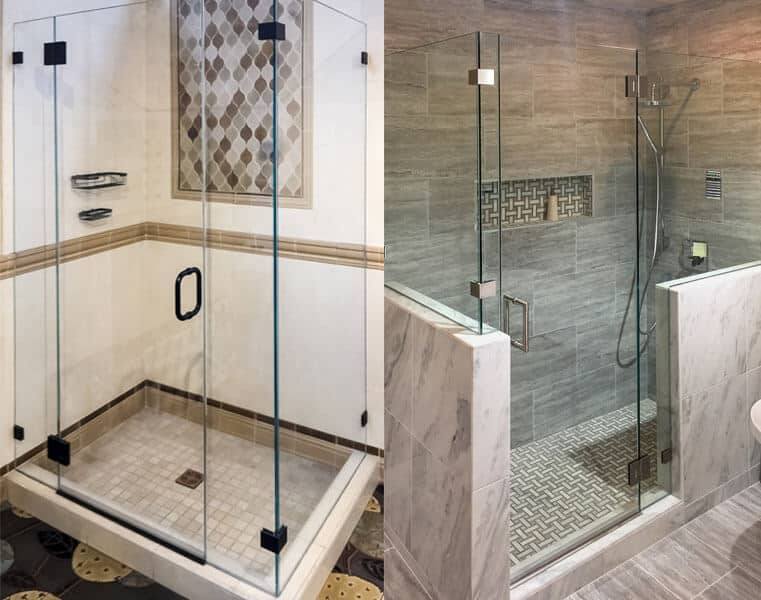 Corner Shower Doors
One of the most common configurations in modern homes is the corner shower, which comprises two glass sides that connect to each other and to the wall. They can be both curved and square.
When frameless, this design allows for plenty of natural light and makes the bathroom look more open, which is why you'll find a corner unit in nearly every small bathroom with a shower. This is one of the reasons why corner shower doors are a popular choice for historic homes.
The classic design of corner shower doors will always remain relevant, so going out of style is never going to be a concern.
Sometimes, a side of the shower has a half-wall (also known as a knee wall or partition wall) which gets used because of the room's architectural elements. The bottom half of the wall is usually tiled, and this is because the shower is next to a tub, a vanity or a toilet.
Before planning a new corner shower door, it's very important to know which way it will open and how much room is available for a swinging door. If space is very tight, you can look into other types of doors that don't swing outward, such as bi-fold or barn style doors.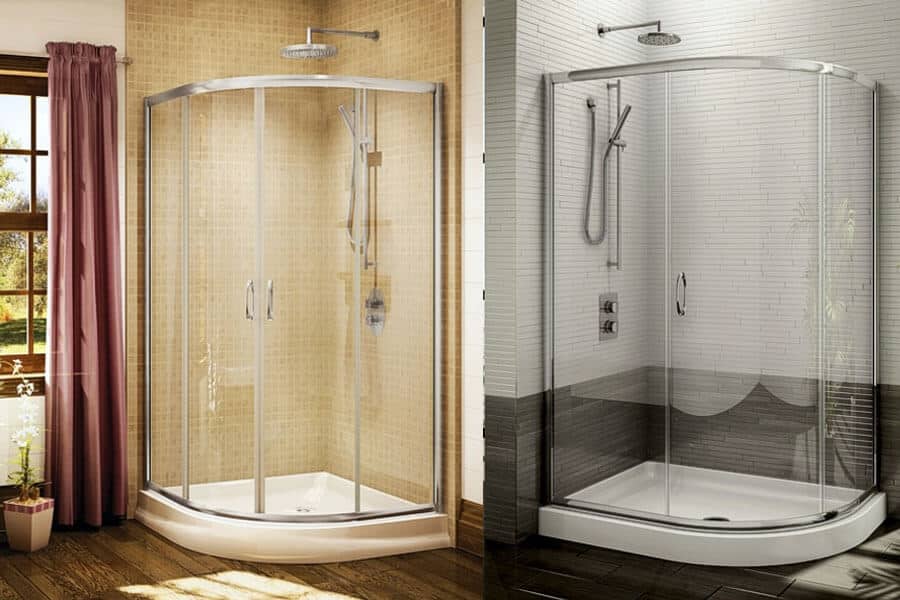 Semi-Oval Or Quadrant Shower Doors
One of the most popular types of shower doors is the quadrant shower door. This design features a curved glass front that fits into tight corners and makes the absolute most of any space.
There are two types of quadrant shower enclosures: standard and offset. The standard has two sides of equal length and are basically square with one corner rounded off, while the offset is bigger, also with a rounded corner but an oblong shape. Both are commonly chosen as corner units.
If you want to maximize the space in your bathroom, you can't go wrong with a quadrant shower enclosure. This type of enclosure has two ends similar to square shower casings, and the middle has a curved and straight side. Its design allows you to maximize the space between the wall and the bathroom.
The curved side of its semi-oval shower door offers a modern look and is ideal for tight spaces. The sliding door makes getting in and out of the shower super easy without adding to the overall footprint of the enclosure. If you're looking to modernize or update the look of your bathroom, the quadrant shower door might be just the solutions you're looking for.
Because quadrants are hugely popular, a wide range of styles and designs are available for the various glass types and configurations. In most cases, they will feature sliding doors, which are the most efficient style of enclosure. In many cases, it's also possible to find a variety of quadrant or semi-oval shower enclosures with a pivot or hinged door.
Getting Your New Shower Door Installed
With the help of experienced and trained glass shower enclosure installers, you can quickly achieve the look you want. From planning and design, to purchasing and installing, Schicker Luxury Shower Doors can help you find or design the perfect enclosure for your home.
Contact us for a free in-home estimate or stop by our Concord, CA showroom to see actual models and get even more inspiration for your bathroom makeover!